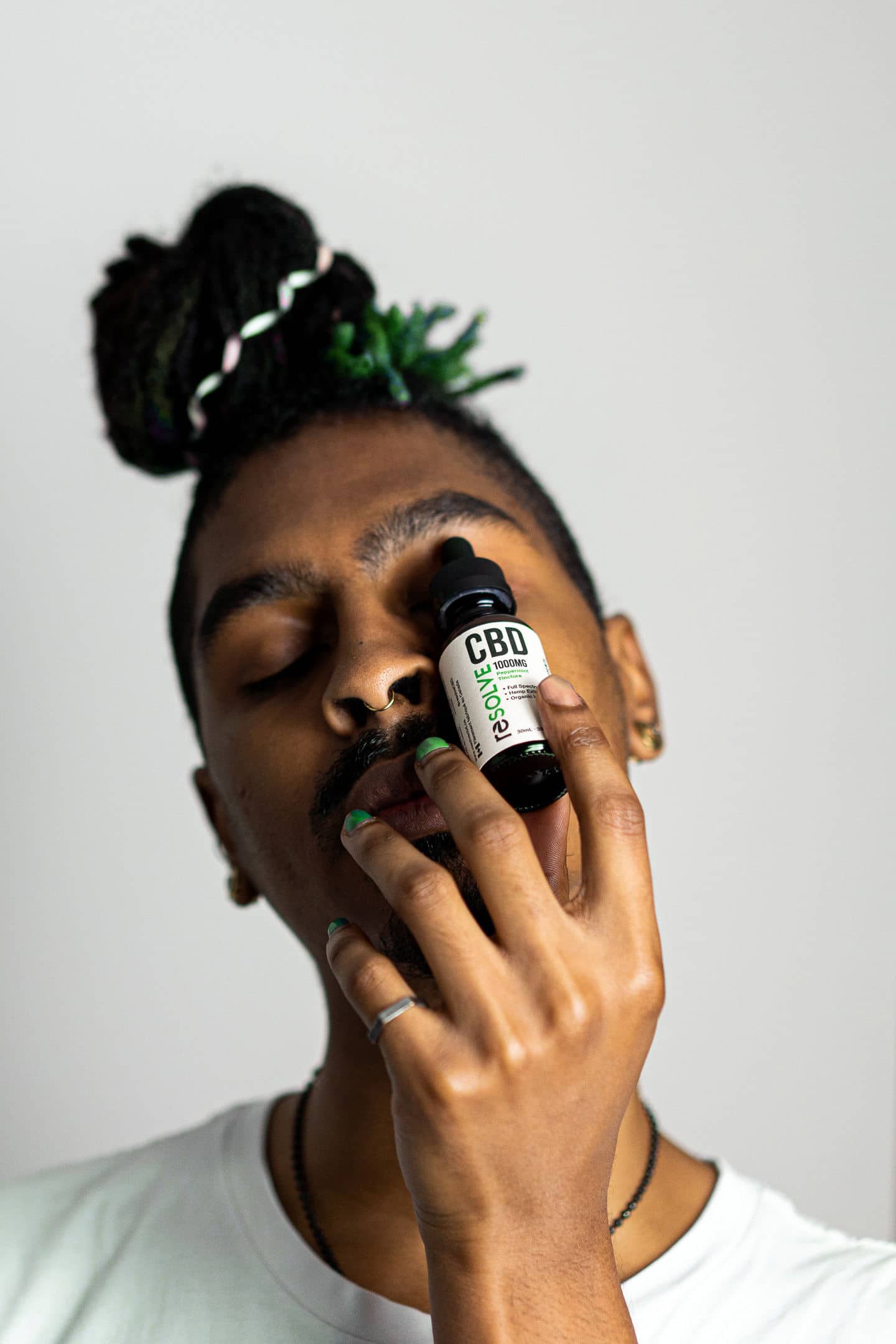 CBD (Cannabidiol) is the primary compound found in hemp plants, while THC (Tetrahydrocannabinol) is the main compound in marijuana plants. There are also other compounds such as CBN and CBG contained in both plants, and these plant compounds are known as cannabinoids. While there are over one hundred cannabinoids found in cannabis plants, each with their own unqiue effect, THC is the only psychoactive cannabinoid. Because our CBD and CBN products are derived from hemp plants, they are non-psychoactive (i.e. does not get you high) due to the negligible THC content (<0.3%).
These cannabinoids can be extracted in various forms, such as CBD isolate, broad spectrum and full spectrum. These plant extracts are then infused into various products such as oils, gummies and tinctures. CBD interacts with our body's Endocannabinoid System (ECS), to maintain balance and homeostasis throughout the body by binding to receptors shown to improve symptoms of pain, anxiety, inflammation and more. Because of this, CBD can be a natural, plant-based alternative to helping you (or even your pet) live a healthier, well-balanced life.
resolveCBD is founded on three key principles: education, compassion, and accessibility. We source our CBD from locally grown hemp farms, handcrafting our CBD oils, gummies, capsules, and creams in our facilities in Toronto. We strive to provide you with the information required when buying CBD online, including Certificates of Analysis, conducted by 3rd party labs.
And don't just take our word for it - check out our customer reviews!
You can also visit our blog, where you'll find credible educational pieces about CBD and how it can enhance your life. We are deeply committed to our community, offering an empathetic pricing program (Resolve Cares) so our CBD oil can remain accessible for those who need it but may not have the financial means to continue purchasing. resolveCBD is not just another CBD company—it's a family.
What can CBD help relieve?
Is your pet experiencing anxiety, stress, pain, or joint aches?
Our CBD oil for pets is made from hemp, and has been shown to help your furry friends with all of these ailments.
Do you find yourself in chronic pain from either muscle aches, inflammation, arthritis, multiple sclerosis, or even headaches?
Evidance suggests that CBD may help you with pain relief & pain management.
Have you tried CBD oil for anxiety?
If you are dealing with stress and anxiety, our CBD oil or our other CBD products may help improve your mental health and alleviate anxiety disorders.
Are you looking for a good night's sleep? Are you dealing with insomnia or a disturbed circadian rhythm?
We offer a CBD:CBN Sleep Aid that can help in getting better, more
restful sleep and recovery.
While not a typical sleep aid, CBD only products can help you relax for better sleep quality as well.
Could you use a boost in mental clarity or some help focusing?
CBD may help improve cognitive function along with potentially relieving the symptoms of hyperactivity attention disorders.
Don't just take our word for it
Real, verified CBD reviews
Here's what you should know
CBD has shown to have immense health and wellness benefits for humans and animals, with continuous scientific studies emerging, coupled with anecdotal evidence supporting these benefits. Some of the known benefits of CBD include increased alertness, reduced stress, reduction of chronic pain and inflammation, reduction of anxiety or depression symptoms, antioxidant properties and neuroprotection, anticonvulsant and anti-seizure benefits, and reduction of cancer-related side effects. CBD promotes a state of homeostasis, bringing balance to the mind and body. CBD has also been found to be useful for treating conditions which have not responded well to conventional treatments and medications, such as childhood epilepsy or pet anxiety.
Full spectrum CBD oil contains all 100+ cannabinoids found in the hemp plant, as opposed to CBD isolate or broad spectrum CBD, which extracts only certain or no other cannabinoids. This means you get the full benefits of the whole hemp plant. Due to this, full spectrum CBD is considered the most effective type of CBD to treat a wide variety of ailments when ingested.
We offer CBD oils, CBD gummies, and CBD capsules that can be ingested, as well as CBD cream that can be topically applied. CBD Dosage will range from person to person, depending on your weight and ailments. Be sure to take our 3-step quiz here for a personalized dosing recommendation.
A Certificate of Analysis (COA) is a document specifying that our CBD has undergone third party lab testing, confirming the amount of CBD, THC, and other helpful cannabinoids found in a sample. This gives you peace of mind, that your CBD products are in fact authentic, quality controlled, and consistent. We publicly post COAs for all our products, found here.
Whether you are in Vancouver, Edmonton, Montreal, Toronto, or anywhere else in Canada, you can purchase CBD online Canada-wide right on this site.
A credit card is necessary, but a prescription is not required. Must be 19 years or older to make a purchase. (18 years or older in Quebec or Alberta)