How to use CBD oil for cats
Our cats are more than just our furry friends, they are companions, providing us with a unique sense of comfort that only a pet can. Like us, however, our cats can experience ailments, anxieties and diseases, which can hinder their quality of life.
The good news is that there are various ways that you can help ease your cat's anxiety and reduce symptoms of common ailments experienced by felines. 
Recent studies have indicated how humans can benefit from using CBD oil for anxiety, and CBD can have similar effects on our pets. Because humans and cats have similar Endocannabinoid Systems, CBD has similar benefits for both us and our felines.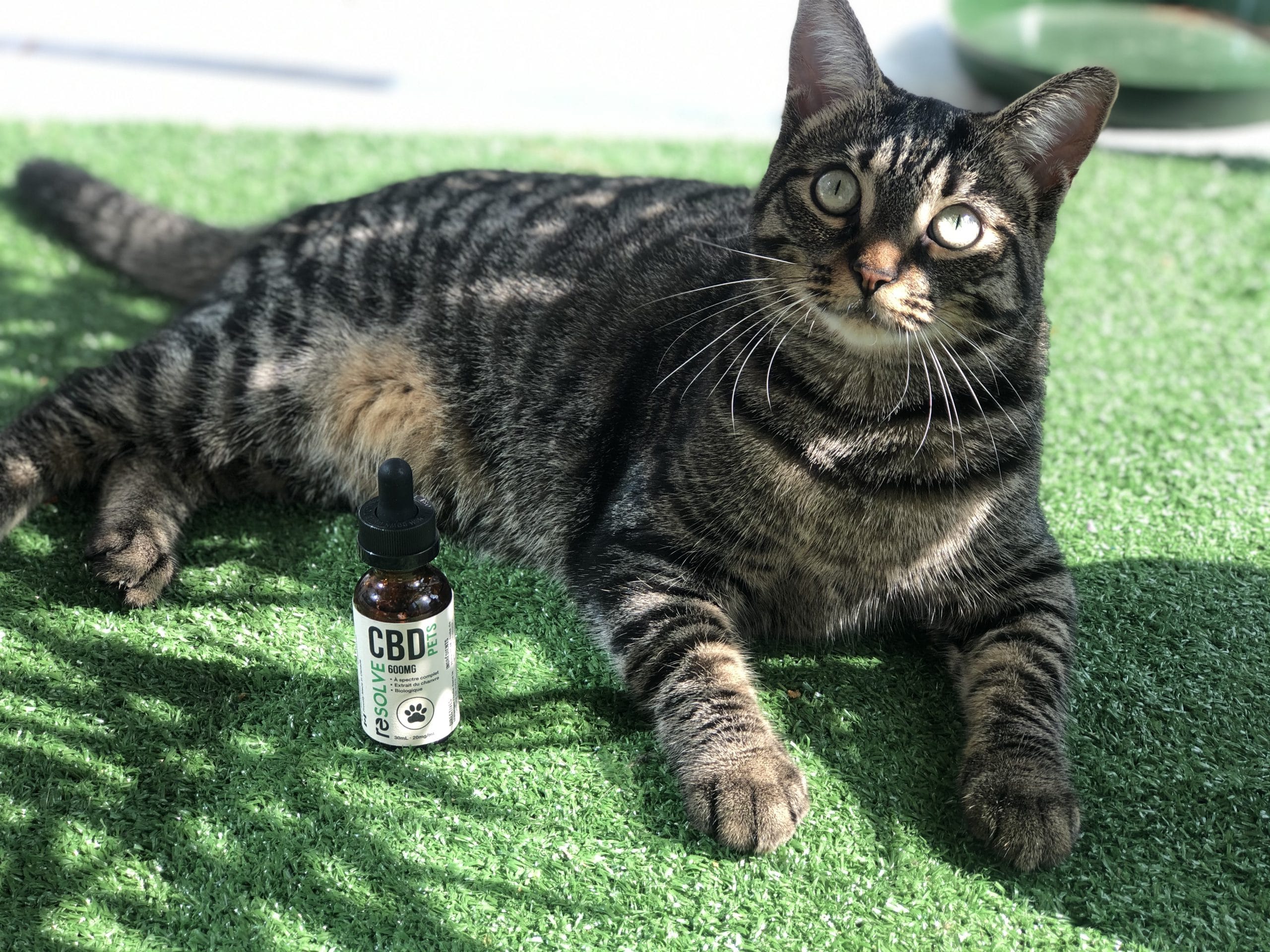 According to CNBC, the sales of CBD pet products reached $32 million in 2019 alone. That said, because humans are substantially larger than cats (and have different taste preferences), CBD products for animals are typically not the same ones that humans use, as there are CBD oils specifically designed for pets to help reduce their anxieties and manage their pain and discomfort. 
Let's consider the various ailments cats experience and how CBD oil for cats can help improve your furry friend's quality of life, and even future prevent health issues from arising. 
How does CBD oil for cats work?
Both humans and cats have an Endocannabinoid System (ECS), which regulates essential bodily functions like pain, mood, sleep, and immune system responses. This system is composed of cannabinoid receptors, which are neurons that CBD stimulates to regulate bodily functions. 
At a high level, the way CBD oil for cats (as well humans) works is that the cannabidiol interacts with these receptors to achieve balance and equilibrium, calmness, reduce anxieties, and alleviate pain.
CBD oil contains low and non-THC strains of CBD (<0.3% THC) to facilitate this stimulation and regulate bodily functions, without imparting any psychoactive effects. Fun fact: all vertebrate animals with a spine have the same Endocannabinoid System, which is why all species in this grouping can benefit from CBD oil. 
CBD oil for cats anxiety, pain, cancer and more
The following are some common ailments experienced by cats, and how CBD oil can help to reduce the common symptoms associated with these conditions.
Pain and swelling:
Both pain and swelling are symptoms regulated by the vanilloid receptor in your cat's brain. CBD oil for cats helps subside this pain and swelling by targeting the vanilloid receptor, preventing it from turning on or sending pain and swelling signals. This eventually leads to pain points diminishing without causing further discomfort.  
Human beings also have a vanilloid receptor in our brains that regulate these senses, which is why many humans use CBD for chronic pain and inflammation.
There have been various studies linking CBD oil to pain management for our pets, although research and studies are still underway to discover the effects CBD can have on animals. For example, researchers at Cornell University that found that dogs experienced less pain after taking CBD for arthritis. 
CBD oil's inflammatory capabilities make it a great option for treating chronic pain and issues including: 
Nerve-related or neuropathy pain
Inflammation of the intestines
Arthritis & joint pain
Pancreatitis
Asthma
Cats anxiety and depression
Cats can experience separation anxiety, or be triggered by strangers, loud noises, new events, or events like vet visits that they may associate with past trauma. 
Fortunately, CBD has shown the ability to help reduce these symptoms so that both you and your cat can enjoy a full life with reduced stress. 
Like humans, cats have an ECS system that regulates mood, appetite, sleep, and more to maintain homeostasis within the body. This is why cannabidiol can help reduce both you and your cat's feelings of stress and anxiety by rebalancing and regulating the hormones that may be causing these symptoms. That said, CBD oil designed for humans and pets can be  different in dosage and formulation, and should not be used interchangeably. 
While medical professionals for animals and humans alike often prescribe mood altering drugs to help reduce symptoms of anxiety and depression, CBD products are a non-toxic, non-psychoactive alternative that can have similar effects. CBD oil can actually have more long term effects on your cat's overall mental health as it helps to stimulate adenosine and serotonin receptors in their brain. This is also why CBD oil for cats can help to reduce your cat's fear and rectify imbalance in their mood.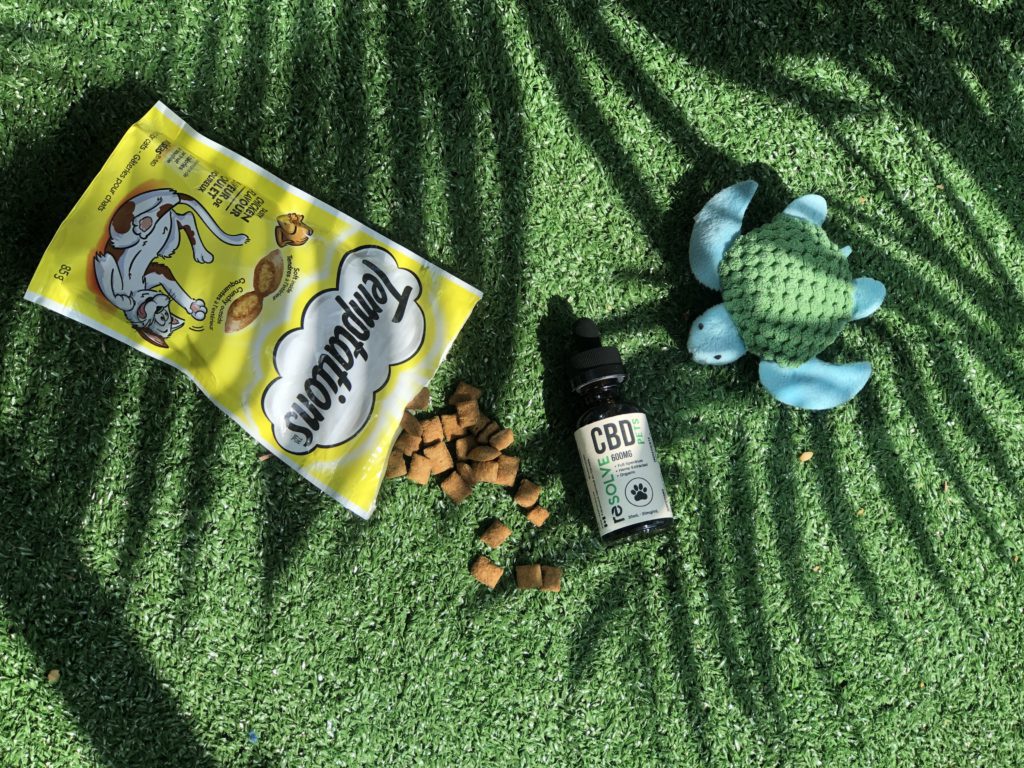 Behaviour and mood
CBD oil for cats can have a generally positive impact on your cat's behaviour and mood. This is a result of its ability to reduce feelings of anxiety, pain, and other sources of discomfort. With these symptoms reduced, cats tend to have more energy and an all around better disposition. 
Cancer and related symptoms
Few studies have been done regarding CBD's ability to prevent cancer in cats and reduce related symptoms, but there is some evidence pointing to the products' various benefits. 
CBD for cats can help to interrupt the growth and spread of cancer cells by promoting homeostasis. This has been displayed in past studies conducted on mice and rats where CBD was found to be capable of killing cancerous cells, preventing them from metastasizing. 
There have also been additional studies done on humans with breast cancer who, after using CBD, experienced a better recovery experience. This is largely due to CBD oil's pain management capabilities which help to manage the pain associated with chemotherapy and other pain medications prescribed to cancer patients 
Skin conditions
CBD oil can help reduce the symptoms of skin irritations and coat conditions experienced by cats. Similar to how CBD oil can help reduce acne and dryness for human skin, it can have similar effects on your cat. When you directly apply CBD oil to your cat's coat, it can help make their fur shiny, soft, strong, and help reduce allergic reactions.

Seizures and epilepsy
Like humans, cats can experience epilepsy and seizures. That said, like CBD oil has been known to help reduce epileptic symptoms in humans, it has also been linked with having similar impacts on felines. 
CBD oil for epilepsy works by reducing the volume of electric disruptions in the brain that causes seizures. Be sure to talk to a vet about if CBD oil for epilepsy is well suited to your cat. 
Inflammatory bowel disease
Inflammatory Bowel Disease (IBD) is caused by inflammation, which studies have shown can be reduced by CBD oil. After all, it's CBD oil's inflammatory abilities that have made it a go-to solution for humans looking to manage their pain.
More specifically, CBD helps to reduce the discomfort and swelling caused by IBD so that your cat can experience less frequent or reduced symptoms. While CBD oil is definitely not a cure for IBD, it can help to manage the pain experienced as a result of the condition. Consider talking to your pet's vet about a long-term solution to IBD. 
How to choose the right CBD oil for cats
Although there have been no serious side effects associated with using CBD oil for cats, it is still important to consult a medical professional first to ensure that the CBD does not interfere with any medication your pet may be on, as well as potential allergies to ingredients within a given CBD oil.
To choose the best CBD for oil for cats, it's important to consider where you are sourcing the CBD, its potency, dosage, and administration.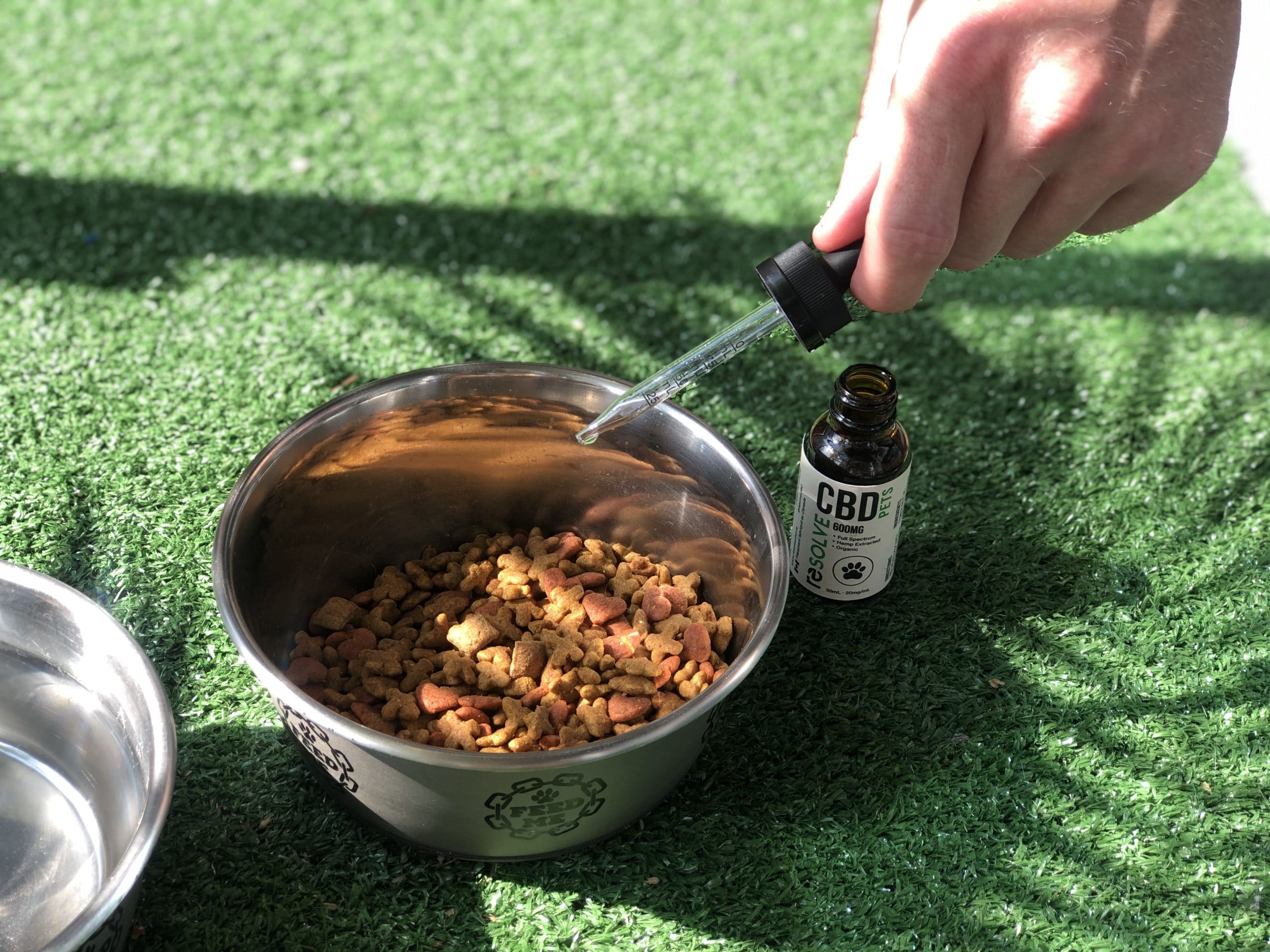 Finding the right concentration
When looking for the right CBD oil for cats, it's important to consider the volume of CBD in the product. You want to ensure that there is a sufficient amount of CBD in the product, and no harmful materials. 
Your cat deserves only the best. Seek CBD oil for pets that are sourced from hemp plants (to ensure zero to low THC) and contain organic ingredients to ensure high quality. ResolveCBD's pet products are made up of organic ingredients that are locally sourced. It's also important to ensure you are purchasing hemp-derived CBD so that you can be sure that is little to no THC.
Finally, buy from a transparent company that provides lab reports to indicate the levels of CBD (and other cannabinoids) present and the overall production of the product. 
Hemp-derived CBD
Marijuana has high levels of THC which can be toxic to animals. Only use CBD oil for cats that is derived from hemp, which contain only trace amounts of THC (<0.3%) and are non-psychoactive and non-toxic. All ResolveCBD pet products are derived from hemp for the optimal comfort of your cat. 
Be sure to check the ingredients list for the pet product you are purchasing as well, to ensure that any carrier oils or flavourings are safe for cats. resolveCBD offers a specially formulated pet oil with your cat in mind, replacing our peppermint flavour with wild Alaskan salmon oil for a pleasant taste to cats and dogs, in addition to cold pressed hemp seed oil and organic MCT oil.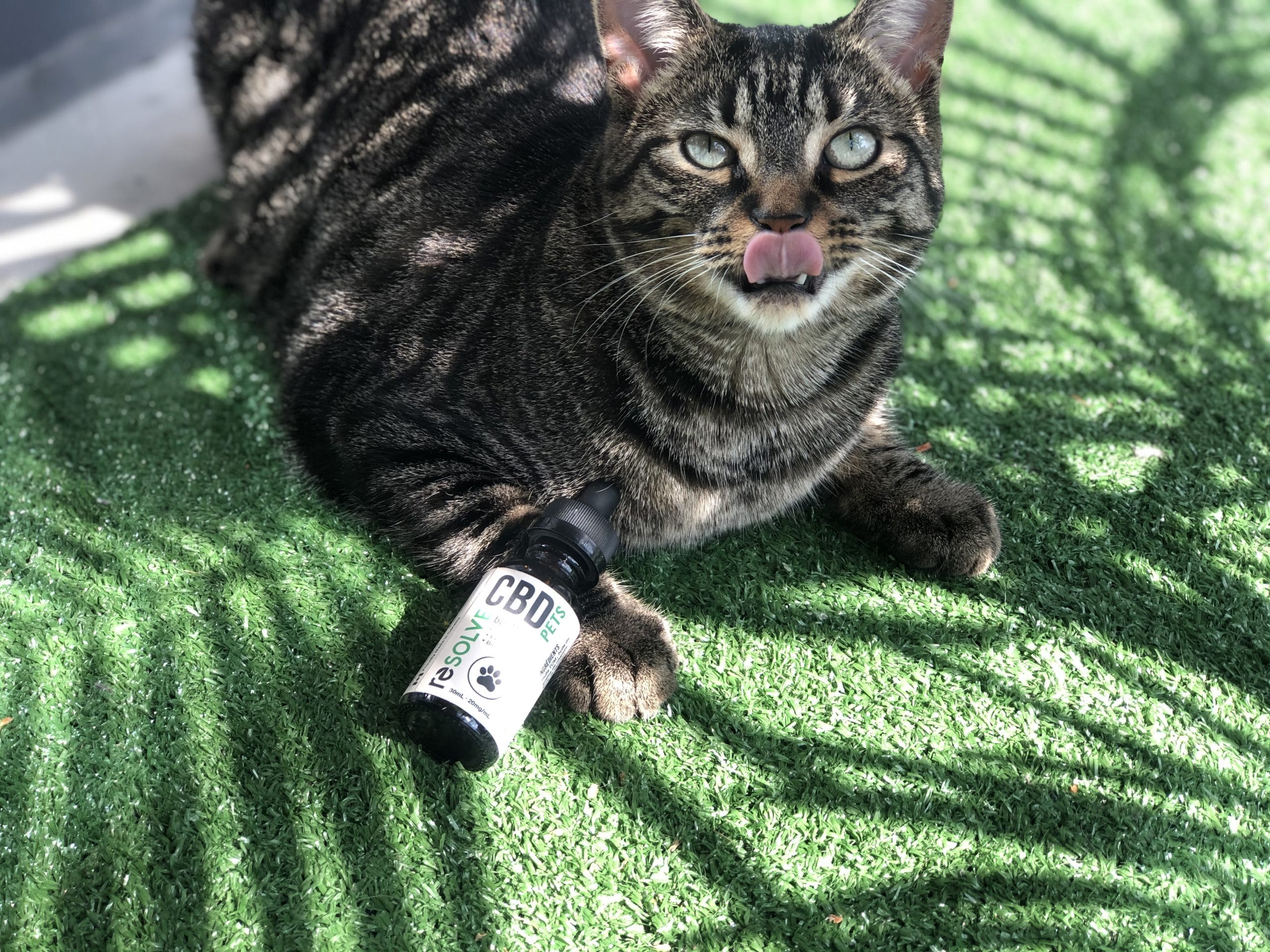 CBD oil dosage for cats 
Correct dosage will help provide better results when using CBD oil for cats, which is why it's important to dose your cat based on their unique stature and needs. Just like no two cats experience illnesses the same way, they won't experience CBD the same way.
When dosing CBD oil for cats, don't rush the process. Start with a low dose to introduce the product into your cat's daily routine and gauge your pet's response. You can administer CBD to your cat orally or by adding  it to their favourite food or treat. 
Generally speaking, the best practice for dosing CBD oil for cats is to start with 1mg to 5mg. Then, you can gradually increase the dose by 1mg to 5mg for every 10 lbs your cat weighs. If you notice undesirable effects, such as reduced appetite or drowsiness, reduce the dosage and regroup with your vet to discuss how to determine a more appropriate dose. 
ResolveCBD pets products: 200 mg vs. 600mg
ResolveCBD offers CBD oil for dogs and cats to suit your pets' varying needs. We carry both 200mg and 600mg CBD oil for pets, and the best product for your pet will be dependent on its size and ailments. Unless a cat has a specific ailment, we recommend our 200mg CBD oil for cats as they are smaller animals. If you're confused, simply consult our pets CBD dosing chart for a quick recommendation.
DISCLAIMER: Information and products presented by resolveCBD are not intended to diagnose, treat, cure, or prevent any disease or ailment, nor is it intended to be a substitute or alternative for professional medical advice. Always consult with a licensed professional regarding medical treatment or possible interactions with prescribed drugs. Products are intended to be used as directed, by individuals who are 19 years of age or older.
|
Published August 26, 2020