Which CBD product is right for me? Guide to CBD products
CBD is not just a buzz word in the wellness category. The Google search for which CBD product should I try? turns up 62 million hits alone, meaning the thirst for CBD knowledge and information isn't just a trend, it's growing.
If you're one of the curious thousands ready to try CBD but not sure where to start, we are here for you. resolveCBD offers full spectrum hemp derived CBD products to help provide relief for common, everyday ailments like anxiety, joint pain, sleep issues, inflammation and more. 
The quality of our products is just as important as the information and education we share about CBD. Those who find the most benefits from CBD are well-informed, leading them to the CBD products best suited for them.
CBD oil, gummies, topicals and capsules–we have them all, but which CBD product should you try? Well, now you know a bit more about us, let's focus on you.
What are the issues  you're trying to treat? Do you have a preferred method of application or usage? What is your age and weight? All these questions will help you narrow down which CBD products to try and how much.
CBD oils
One of–if not the most–versatile CBD products. CBD Oil can be consumed directly, added to your favourite drink or food, or applied onto skin. CBD Oil is used to treat anxiety, chronic pain, anxiety, headaches, acne and more. It is a natural alternative to prescription or over the counter pain medication, with little to no side effects.
CBD oil works for a variety of ailments because of how it naturally interacts with the body's systems. The full extent of how CBD works in our bodies is being constantly studied and we are learning more and more each year. What science has found is that CBD oil is able to relieve so many different types of pain due to how it interacts with the body's Endocannabinoid System (ECS).
Components of CBD oil are able to interact with the brain and immune system's endocannabinoid receptors – the proteins attached to your cells that receive chemical signals and help your cells to respond to different stimulants. Some researchers believe that this interaction between CBD oil and the ECS creates the anti-inflammatory and pain-relieving impacts that are associated with CBD.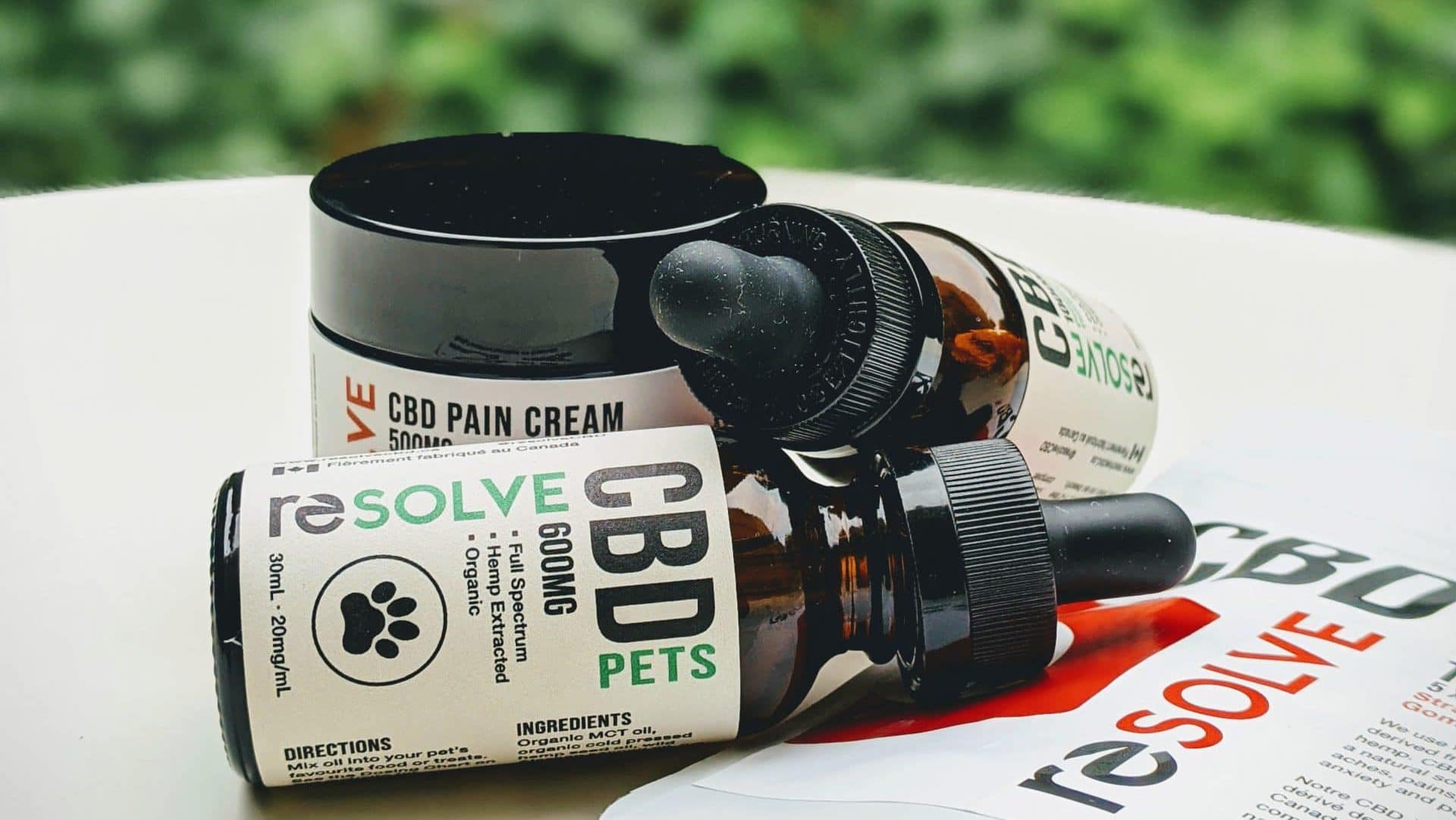 Types of CBD oil
CBD is available in three forms: full spectrum, broad spectrum, and isolate. Full spectrum CBD oil is the most preferred form as it contains all 100+ helpful cannabinoids found in the hemp plant. Due to this, the body is able to benefit from the entire plant, known as the Entourage Effect. When derived from hemp, full spectrum CBD will contain less than 0% THC content – nowhere near enough to impair the user or cause a "high." Broad spectrum CBD oil is CBD oil that contains all cannabinoids except THC, and CBD isolate contains only CBD and no other cannabinoids.
resolveCBD oil is full spectrum and available in tincture form, containing just three ingredients: full spectrum CBD, Medium Chain Triglycerides (MCT) oil, and food-grade peppermint oil for flavour. resolveCBD also offers "Natural" flavour-free oil. If you prefer adding CBD oil to your food or drinks, Natural is a better choice to maintain the integrity of the flavours of your food and drinks. If you are sensitive to taste, you may enjoy Classic peppermint, which helps mask the earthy taste of CBD.
To help treat chronic pain, anxiety, or if you're looking for a better night's sleep, taking CBD oil has been proven to help, thanks to its effects on the body's ECS as mentioned above. If taking CBD oil in tincture form, we recommend dropping 0.5-1mL under your tongue and letting it dissolve over a minute or two. The dropper that comes with your resolveCBD oil is marked in 0.25mL increments so you can measure out the exact dosage you need.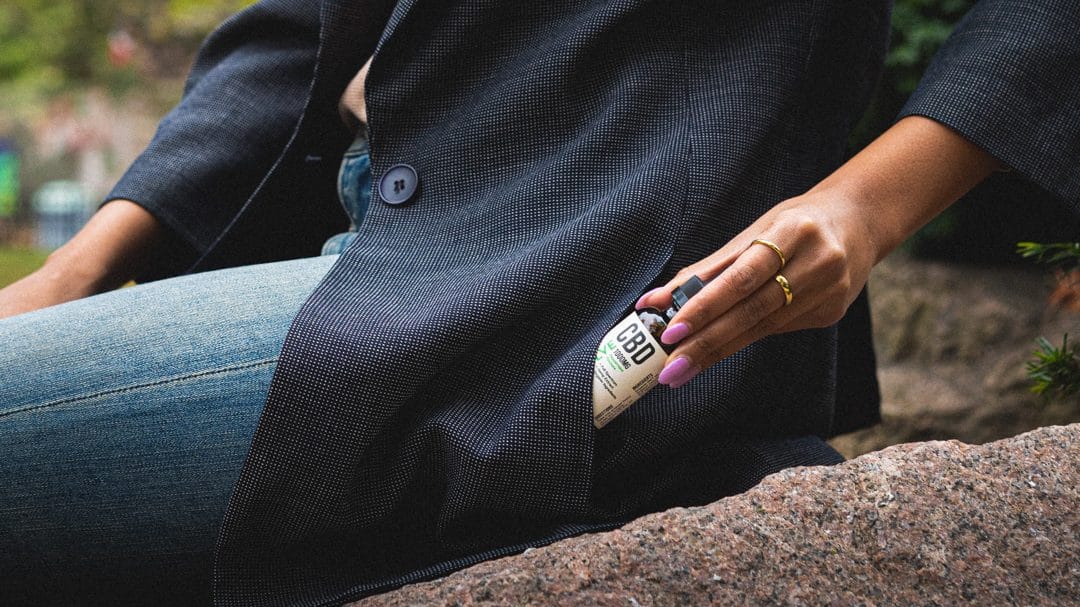 How much CBD oil should I take?
While there is no universally recommended dose, it is always best to start off with a low dose and gradually increase your dosage until you find the right amount for you. As a general rule of thumb, a standard dose is 0.15mg of CBD per pound of bodyweight, as needed. Increase the dosage incrementally every 2-3 days if required. To help you better understand CBD dosing we created this CBD dosage chart and quiz.
Taking CBD oil sublingually (under the tongue) is one of the quickest and most common ways to consume CBD, so how long does it take to kick in? Much more rapidly than ingesting CBD through a capsule or gummy (more on this later) because taking CBD this way bypasses the liver and digestive system entirely by being absorbed by mucous membranes located in the mouth. Skipping the metabolization process that occurs during ingestion allows the compound to enter the bloodstream more rapidly. Additionally, because CBD consumed sublingually isn't broken down by digestive enzymes, it does not lose potency.
CBD oil for pets
Like humans, our furry friends can suffer from similar joint pain and even anxiety, which is why CBD oil has also become popular among pet owners as an alternative and natural treatment for pets.
We recommend giving your pet resolveCBD Pets Oil, rather than our classic CBD oil products. That's because resolveCBD for pets is formulated with Wild Alaskan salmon oil, rather than peppermint oil, which may taste unpleasant or be toxic to dogs or cats. Additionally, we offer two concentrations of pet oils, so you can ease your pet into the world of CBD slowly and carefully.
Before giving your pet CBD, check with your vet to ensure it won't conflict with your pet's food, health or any medications.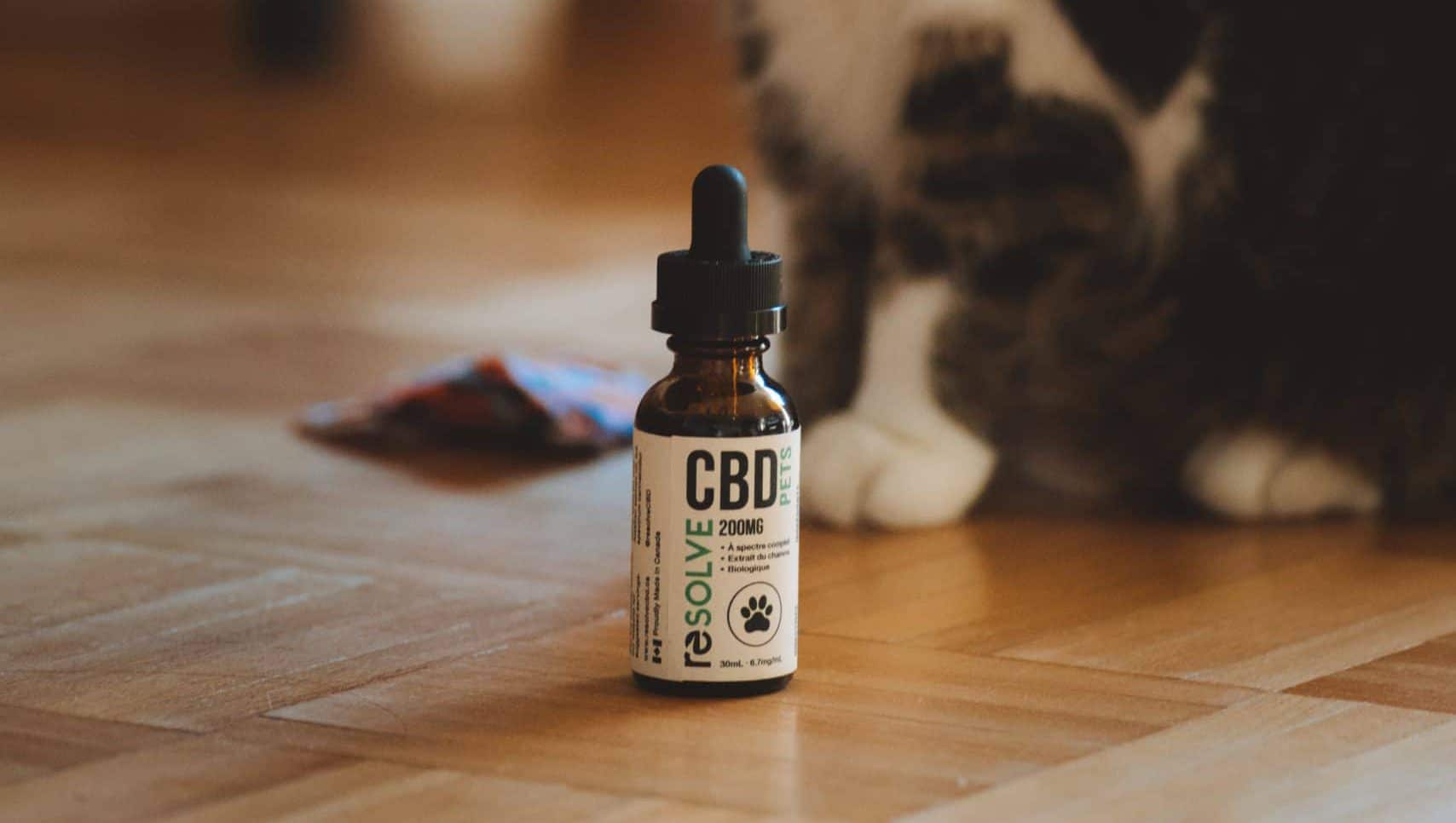 CBD gummies
A delicious way to consume CBD with added convenience of accurate dosing. CBD gummies contain CBD oil and depending on the gummy and brand, different flavours and food ingredients. The upside to gummies, apart from its satisfying candy-like taste, is you know how much CBD is in each gummy. Each package should have information on the total amount of CBD per package as well as the breakdown of CBD per gummy. For example, resolveCBD gummies contain 20mg per gummy for a total of 100mg in a package. This is a great way to get accurate dosing and see what works best for you.
As CBD gummies contain CBD oil, they help to treat much of the same ailments like pain, anxiety, inflammation, or poor sleep. While CBD gummies can be taken at your convenience, taking one (or two) before bed can help you get a good night's rest – who wouldn't want candy before bed?
It's always best to check the ingredients list as each CBD brand makes their gummies differently. resolveCBD gummies contain ingredients you'll recognize; full spectrum CBD, organic coconut oil, organic honey, corn syrup, citric acid, artificial flavouring, and gelatin.
CBD gummies are a great entryway product for those looking to try CBD for the first time or those who want to get more accurate doses of CBD. With an array of flavours and gummy types available, you will certainly find one you like best. But as always, be sure to read the dosage and ingredients carefully – don't let the fun shapes or cool flavours distract you.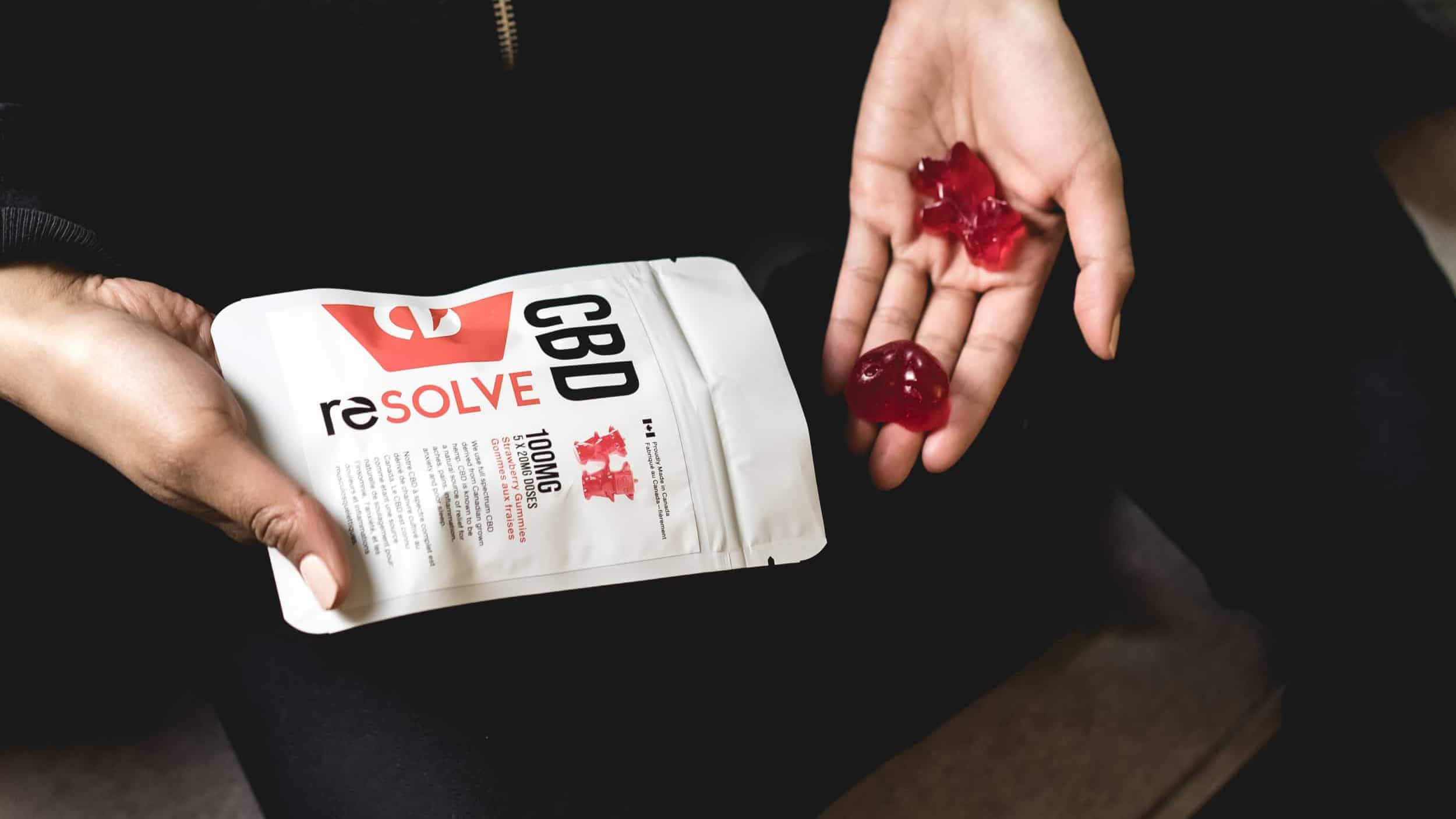 CBD capsules
CBD capsules, like gummies, are another pre-dosed edible form of CBD. Each bottle or package should indicate how much CBD is in each capsule as every product will vary. CBD capsules are especially great for those who may not enjoy the taste or texture of CBD oil and offer a convenient way to take CBD daily, or as needed.
CBD capsules contain CBD oil and help to treat ailments such as muscle and joint pain, anxiety, and migraines. Basically, all the benefits of the oil in an easy one-and-done form. CBD capsules are also great to take with you on the go if needed.
resolveCBD Capsules contain 20mg of CBD oil and come in a 400mg bottle. Our capsules only contain full spectrum CBD oil and coconut oil for easy consumption. Grab your capsule or two and a swig of water et voila, you've got your CBD dose for the day. 
CBD edibles like gummies and capsules typically take effect within 45 minutes on the low end to up to 2 or 3 hours after being consumed, depending on several factors such as weight, digestive system, metabolism, and how much you've recently eaten.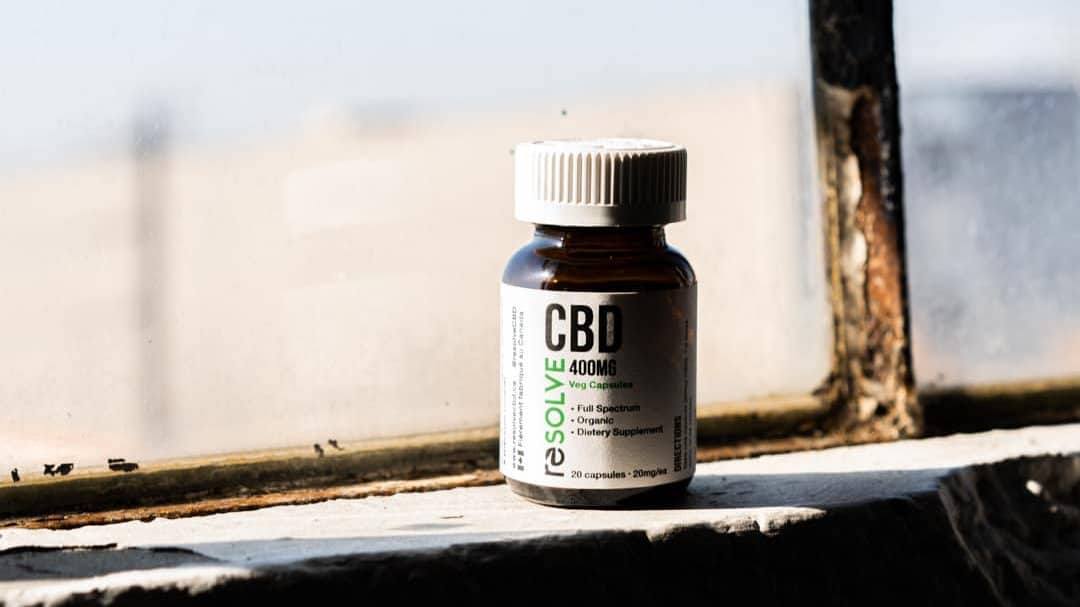 CBD cream
While CBD oil is a hero for muscle and joint pain, along with skin issues such as rosacea, eczema or acne, CBD topicals like a cream help to specifically target problem areas.
CBD cream is great for the everyday and professional athlete as CBD cream can be massaged and worked into problem areas.
Unlike the methods discussed above, CBD used topically does not reach the bloodstream in any significant quantity, however it is very capable of interacting with nearby CB2 cannabinoid receptors on the skin's surface. While human skin has low permeability (blocking most substances from entering), the abundance of CB2 receptors on the skin allow for an effective fast delivery on a targeted area. This means it is highly effective at interacting with aspects of your ECS that regulate pain and inflammatory responses, and has the benefit of a localised focus.
Topical CBD products typically come in the form of creams, balms, and salves. Unlike CBD edibles and oils that work from the inside out, topical CBD products are applied to particular areas of the skin. They are used for more specific purposes that target skin-deep issues, such as reducing inflammation and relieving muscle pain. 
By applying CBD topically, the effects, like edibles, are long lasting for up to 6 hours. CBD cream is a great gym bag addition or as part of your post workout routine to help alleviate common muscle and joint pain or stiffness.
CBD creams, balms and salve have different consistencies and ingredients. Be mindful of the other ingredients in the CBD topical you're using, especially if targeting skin issues. Similar to trying any new skin product, use the spot test. Apply a small amount to your chin or small area below the jaw line and see how your skin reacts, if all is safe, begin to apply a small amount on your skin.
resolveCBD Pain Cream contains 500mg of CBD in each jar. Apart from its pain-relieving ingredient, it also contains Jojoba oil , a natural moisturizer that absorbs quickly into the skin for fast hydration and effective treatment of eczema and dryness, shea butter and calendula, extracted from the calendula flower, used to soothe inflammation and irritation.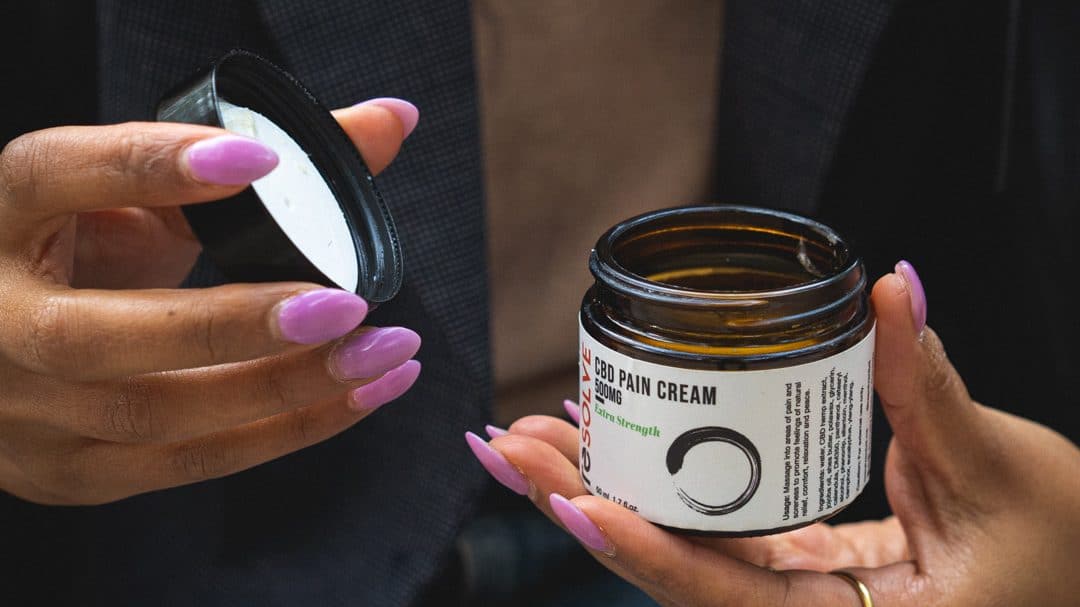 So, which CBD product should I try?
There is no one, universal answer for anyone, but that's the beauty of it. As CBD comes in several forms, each one is able to treat and target a specific ailment and provide relief in a way that best suits you. Our advice is to always be mindful of the quality of the CBD and the amount of CBD in each product to properly dose your intake. Whatever type of pain relief you're looking for, there is a CBD product that will fit your lifestyle – happy picking!
DISCLAIMER: Information and products presented by resolveCBD are not intended to diagnose, treat, cure, or prevent any disease or ailment, nor is it intended to be a substitute or alternative for professional medical advice. Always consult with a licensed professional regarding medical treatment or possible interactions with prescribed drugs. Products are intended to be used as directed, by individuals who are 19 years of age or older.
|
Published January 8, 2021