15+ self isolation-friendly home workout classes
Self isolation is now a very real concept in our world, and in order to enforce social distancing and sanitary measures to "flatten the curve", most gyms across the country (and world) are now closed. For regular gym-goers, the thought of losing gains may be just as frightening as COVID-19 itself. For others, this may be the time to finally dive into the world of fitness and movement as more and more time is freed up during quarantine. The good news is that you don't need iron bars and cardio machines to get fit or stay fit. In fact, some of the most effective workout regimens can be bodyweight exercises (chin-ups, anyone?) While stuck in self-isolation, the Quarantine 15 could creep up quickly, so here are our favourite at home workout classes so you can stay healthy, happy, and sane. From HIIT to yoga to movement and flow, there's something in this list for everyone.
How to workout at home
Switching from a gym workout to a home workout can be challenging, as you will need to switch up your equipment, routine, and even mindset. In order to make your home workout as effective as possible, be sure to set up some space in your home with enough room to move around freely. Coffee tables, rugs, and even pets can be disruptive when you're in the zone, and in order to mimic the feel of a gym, these distractions need to go. If you are able to, set up a large mirror in front of you to check your form, blast your favourite pump up music from a bluetooth speaker, and get ready to sweat. Home workouts for the most part do not require special equipment, however, you can certainly invest in a yoga mat and dumbbells or kettlebells to maintain muscle strength. Remember to take your daily dose of CBD oil before or after your workout, to help with muscle soreness and recovery.
HIIT home workout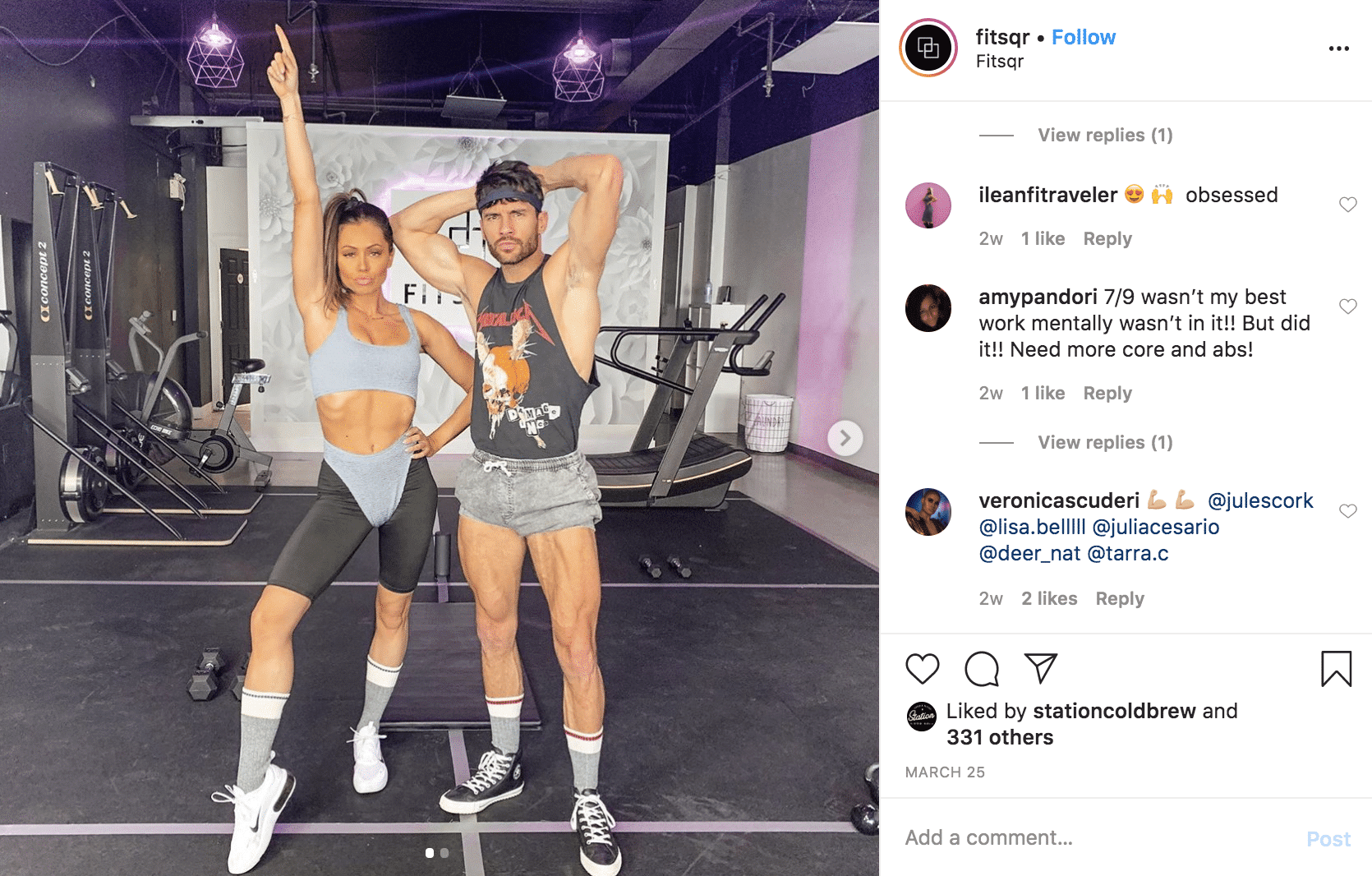 New HIIT-based Toronto gym FitSqr was forced to shut its doors only 2 months into opening, however, have decided to give its members and followers free access to their signature 30 minute HIIT at home workouts on IG Live from Monday through Saturday. Burn calories for up to 24 hours after one of these HIIT workouts and watch the Quarantine 15 melt away.
How to view: Head over to FitSqr's Instagram page and tune in live. Don't forget to contribute anything you can to help keep the gym open.
Worldwide bootcamp gym Barry's offers carefully curated HIIT workouts to help you burn up to 1000 calories per session, with top instructors and high powered playlists to get you through the burn. Bring Barry's HIIT workouts into your home every day with multiple classes running on IG Live, ranging from strength training, upper body focus, full body, and of course, HIIT. If you're really feeling it, you can even install a smart bulb with a red light function to simulate Barry's signature Red Room.
How to view: Head to Barry's Instagram Page and check out their daily schedules. Tune into Instagram Live for your desired class.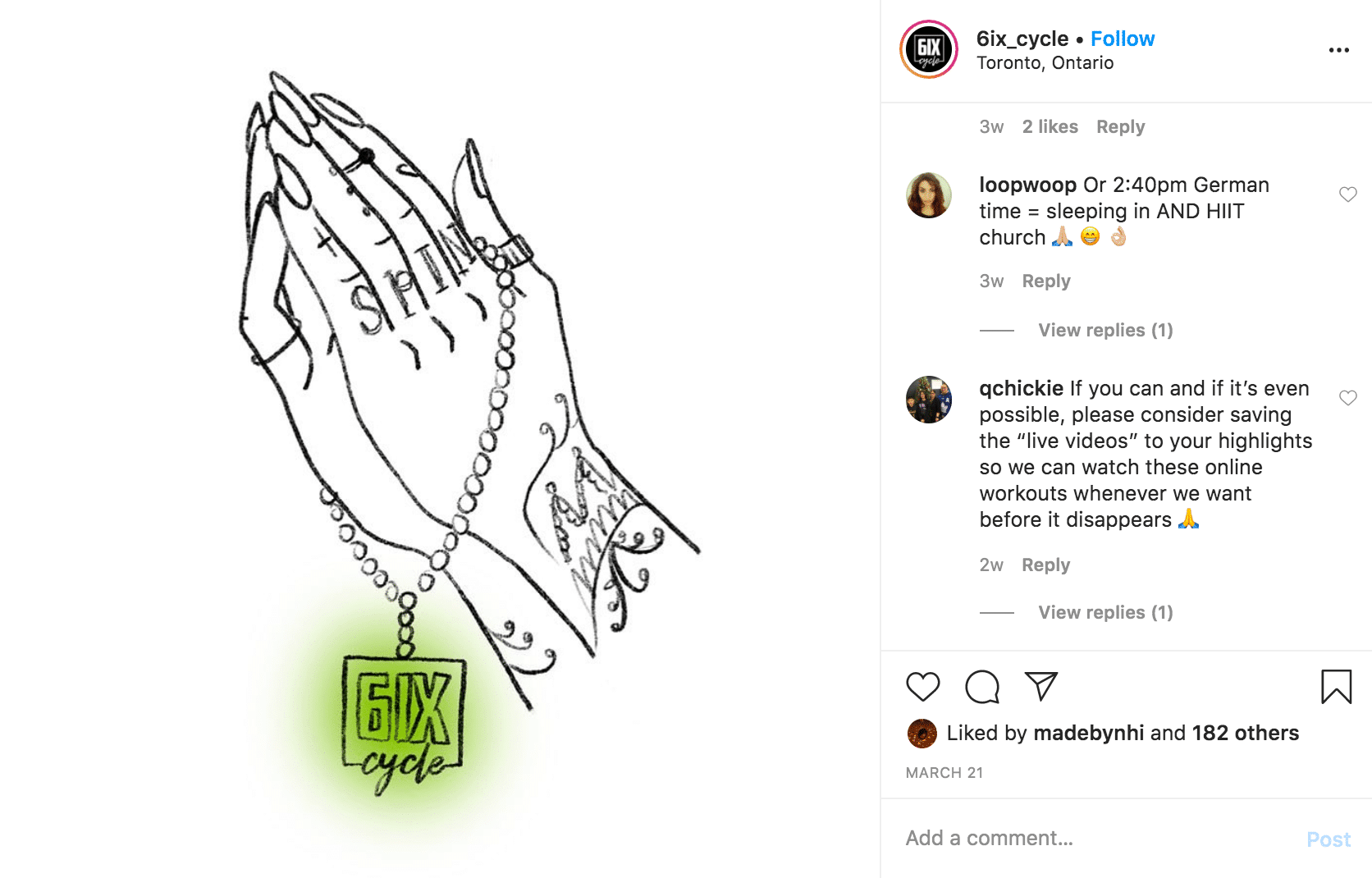 Toronto-based spin studio 6ix Cycle's wheels may have stopped turning temporarily, but that doesn't mean your body has to. Instead, they're offering live HIIT at home workout classes with your favourite instructors with musical themes like hiphop or soca. For those with extra room in their homes, 6ix Cycle is also offering bike rentals to set up shop right at home, with live online spin classes.
How to join: Head to 6ix Cycle's website to book a bike, or head to their Instagram page for live workouts.
Boxing coach at BOLO, Quincy releases at-home Trap Box sequences on Instagram, encouraging followers to stay active at home by shadow boxing, even if they have no current access to the gym. Because upper body workouts could be a challenge at home, shadow boxing is a great way to keep your upper body engaged until you can get back to the gym.
How to view: Head over to Quincy's Instagram account where he releases new videos every week.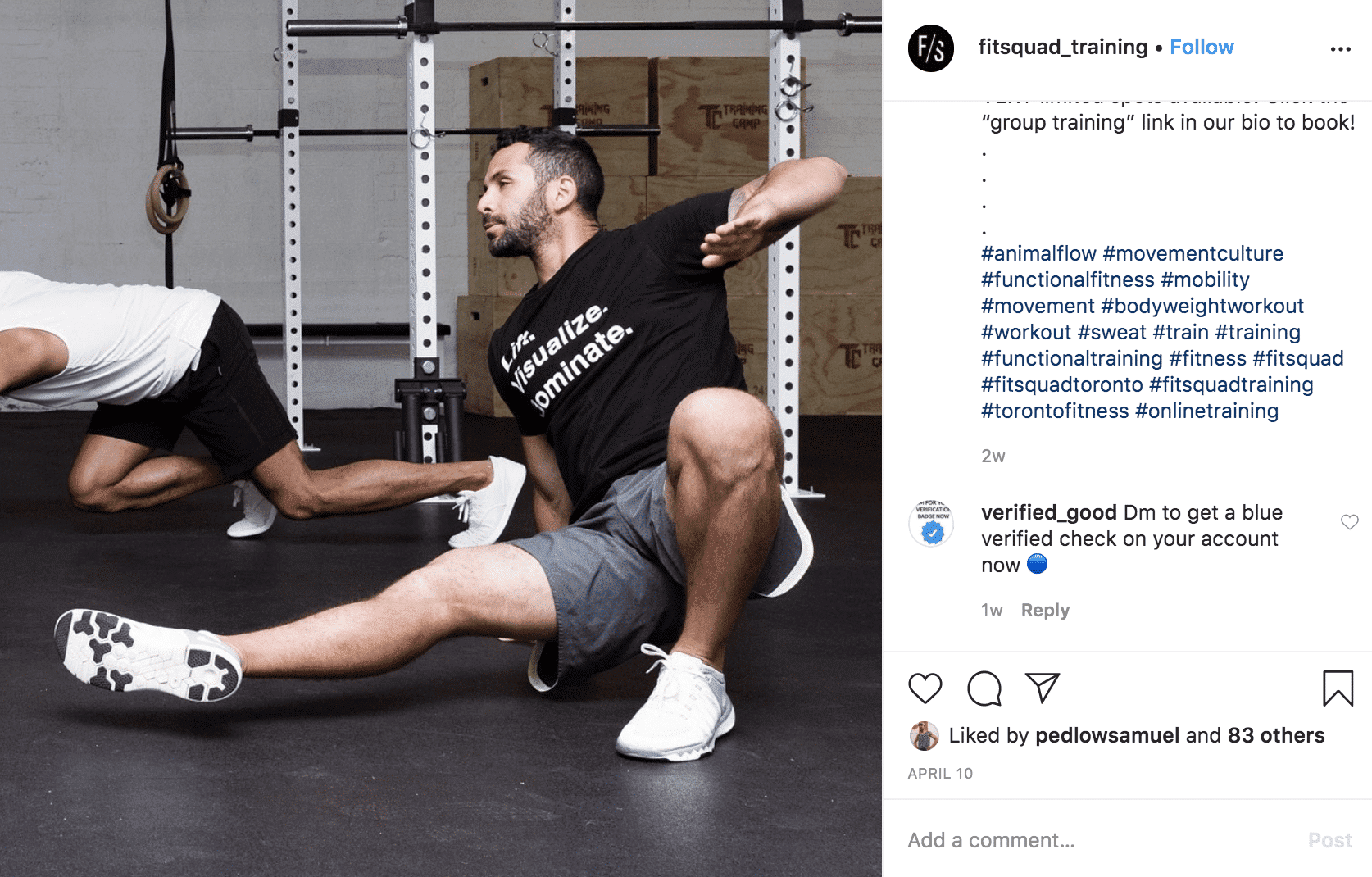 Located in downtown Toronto, Fit Squad's main mission is to empower clients to unlock the greatness already inside them. Fit Squad believes by pushing yourself, you can evolve and become excellent. High intensity full body home workouts are available online, with additional 4-week programs for those really looking to get shredded during quarantine. With names like Animal Flow and Kettlebell Intensive, these are sure to keep you in shape while stuck at home.
How to sign up: Head to Fit Squad's website to sign up for live online classes.
Yoga home workout
1.Power Yoga Canada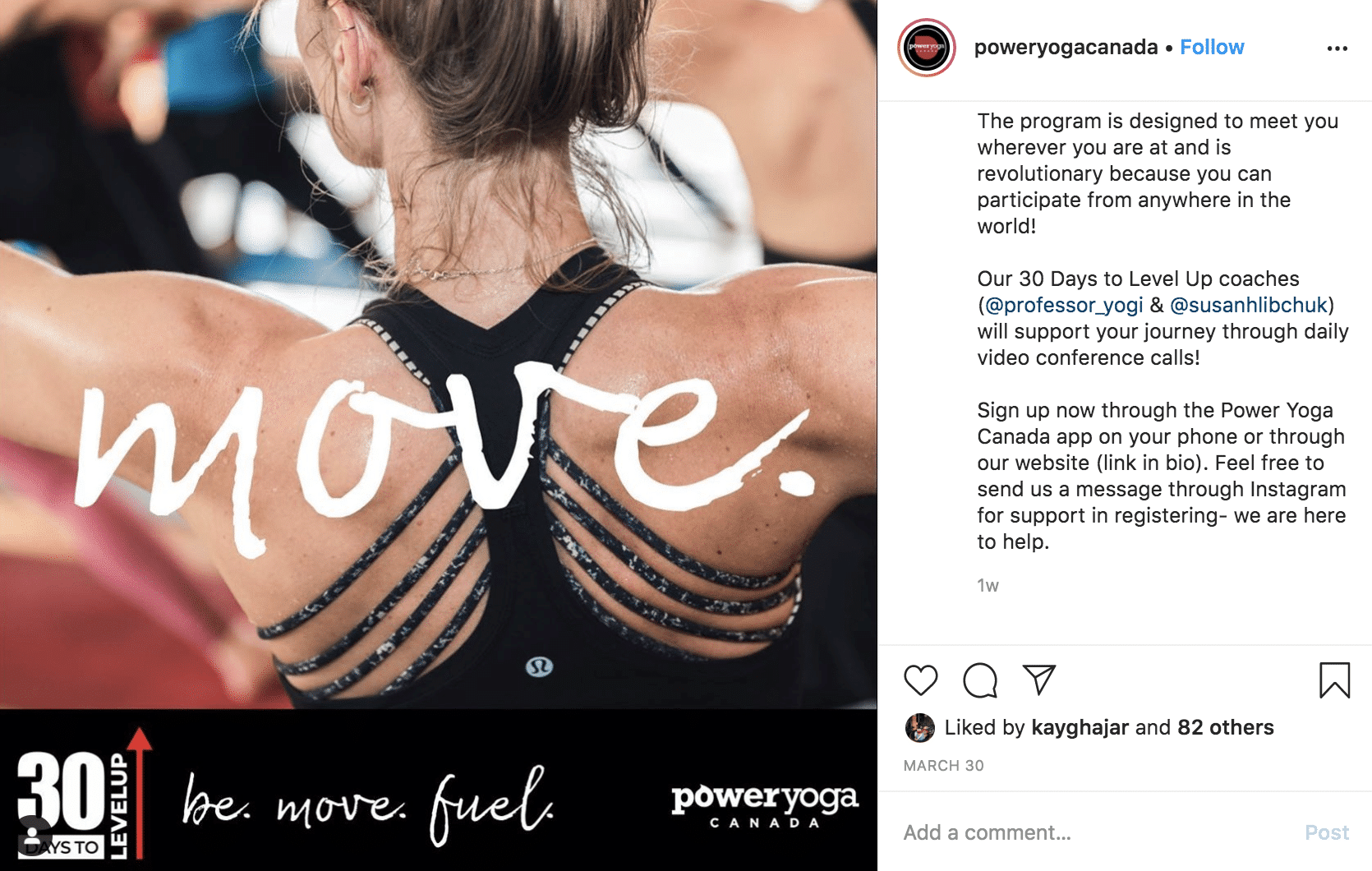 With 13 studios across Ontario and a combined total of 275 weekly classes, and over 15,000 members, Power Yoga Canada doesn't mess around. Doing one thing and doing it best, Power Yoga Canada is a strictly hot power yoga studio open to all levels. Currently, you can catch a piece of the power live streaming home workouts on Facebook and Instagram. Offering up to 7 free Yoga classes a day, you can access Power Yoga from the comfort of your home before work, during, or after.
How to view: Head to Power Yoga Canada's Facebook or Instagram page to view livestream schedules.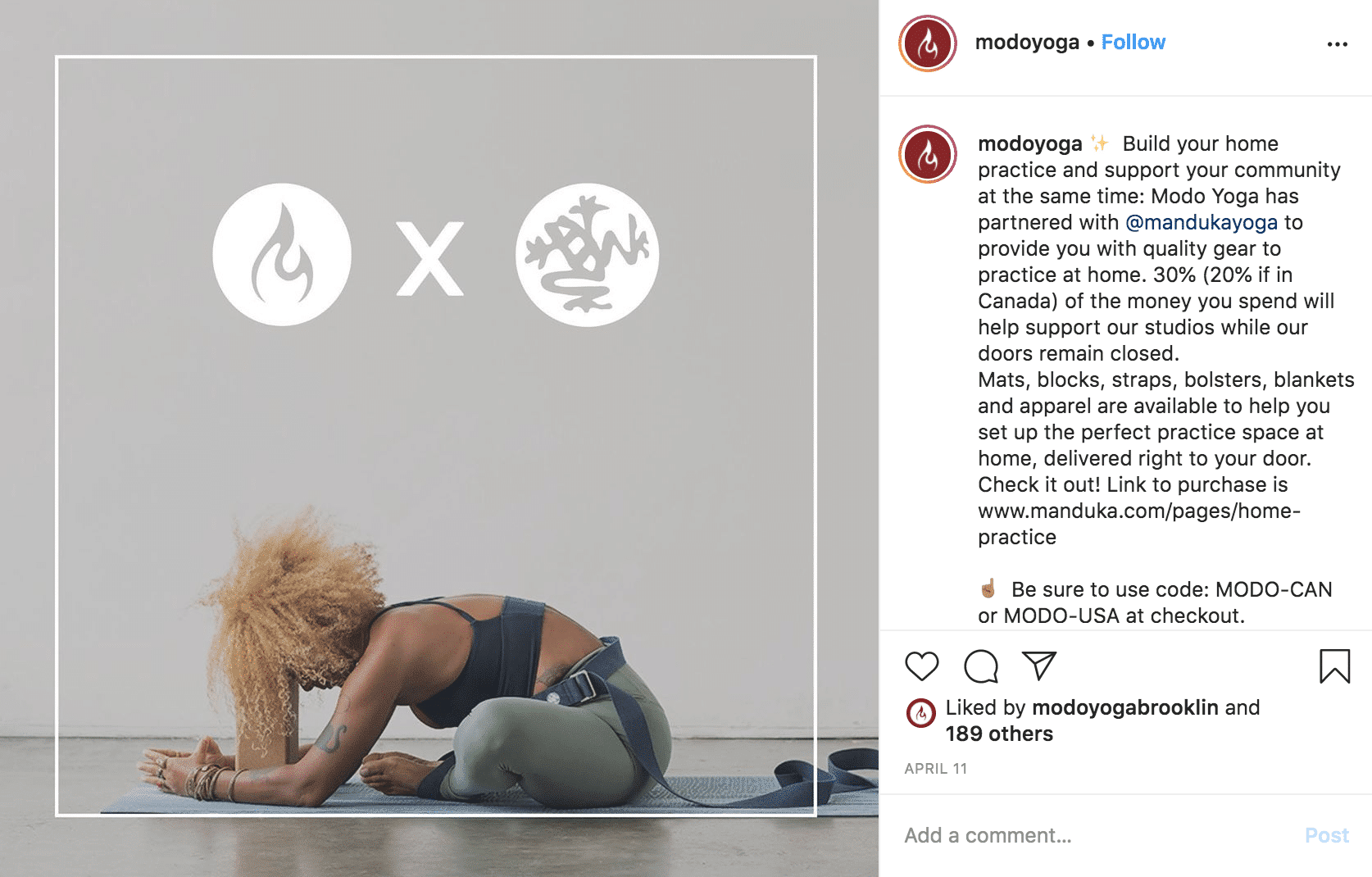 Modo Yoga is built on six key pillars of foundation: to take care of themselves and the Earth, support local groups, foster inclusivity, seek peace and learn consistently. From offering donation based classes to raise funds for causes like the David Suzuki Foundation and Junglekeepers, running studios with renewable energy, or trained instructors offering modifications for injury or beginners, you will quickly learn that all choices Modo Yoga makes are in line with their six key pillars. Modo Yoga is a community of over 70 studios across the world, however, due to COVID-19, have shut their doors for now. Instead, you can sign up for a 1 month free trial for Modo Yoga online, for an at home yoga workout experience.
How to sign up: Head to Modo Yoga's website to sign up for Modo Yoga Online.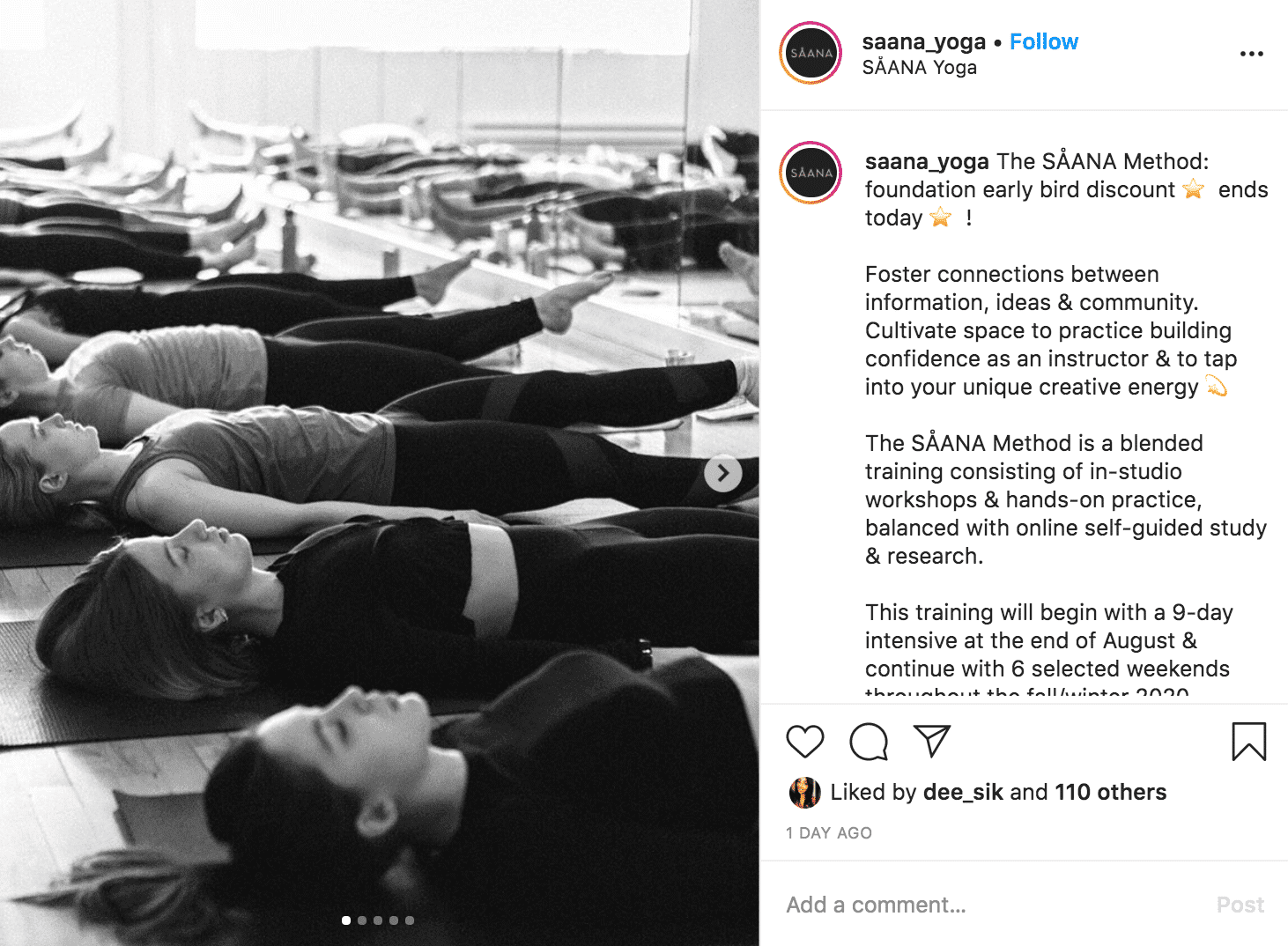 Toronto based Saana Yoga offers the whole wellness experience. Try an international Yoga retreat to Costa Rica, Guatemala, South of France and Portugal, or a more low-key Farmhouse retreat experience where you can explore inner peace and self-reflection, or even massage therapy, Reiki, or lifestyle counselling at one of their three studios. While studios are currently closed, Saana Yoga brings Yoga to your home with two daily Instagram Live workout classes.
How to view: Head to Saana Yoga Instagram page at 12 p.m. and 7 p.m. EST every day for your daily alignment.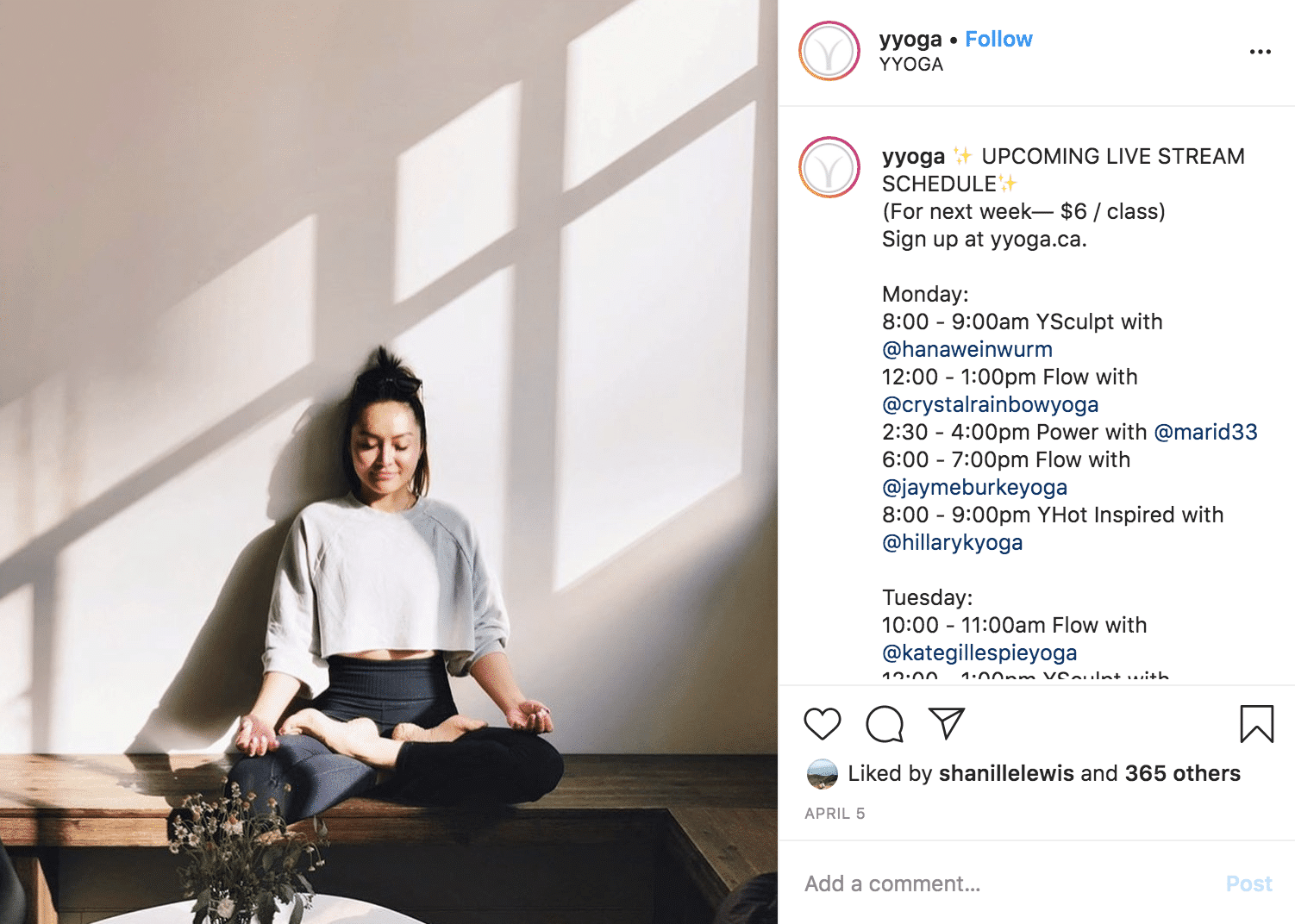 YYoga was founded in 2007 by Terry McBride, a Vancouver entrepreneur with the goal to make the world a better place through the practice of yoga and mindfulness. Today, YYoga has expanded to 12 locations across B.C. and Ontario, creating spaces for people to connect authentically to themselves, and lead a happy, healthy, fulfilling live. YYoga currently offers YYoga at Home workout classes, available for a free two week trial. After that, you can sign up for a monthly subscription to continue the flow at home.
How to sign up: Head to YYoga's website to sign up for YYoga at Home.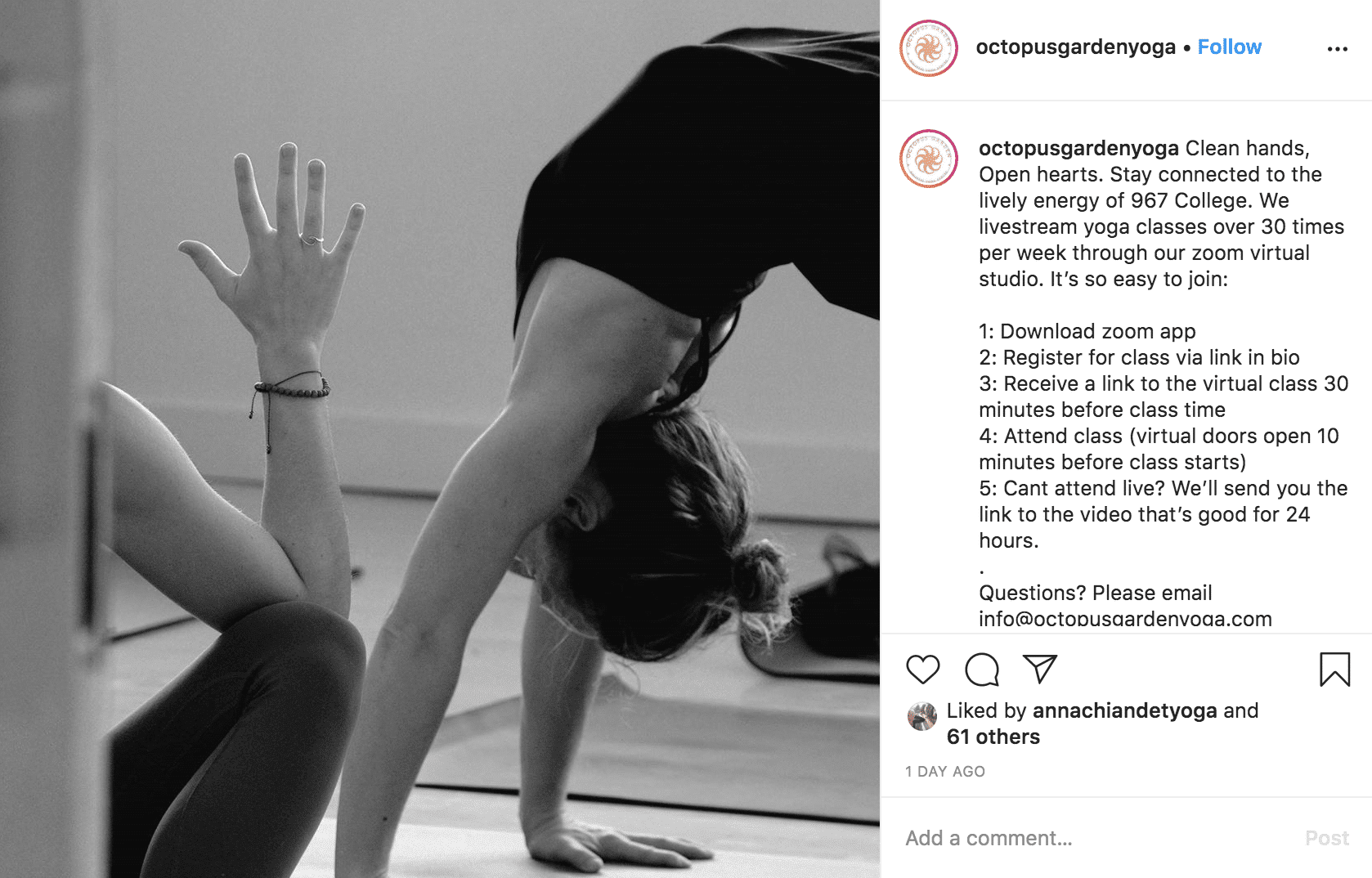 Located in the heart of downtown Toronto, Octopus Garden Holistic Yoga Centre is a full service holistic clinic with teacher training programs and coffee shop within its centre. While the studio is shut down, you can achieve Ohm at home with online Zoom at home workouts, or free IG Live yoga classes every Wednesday.
How to sign up: Head to Octopus Garden's website to sign up for an online membership or tune into Instagram Live on Wednesdays at 4 p.m.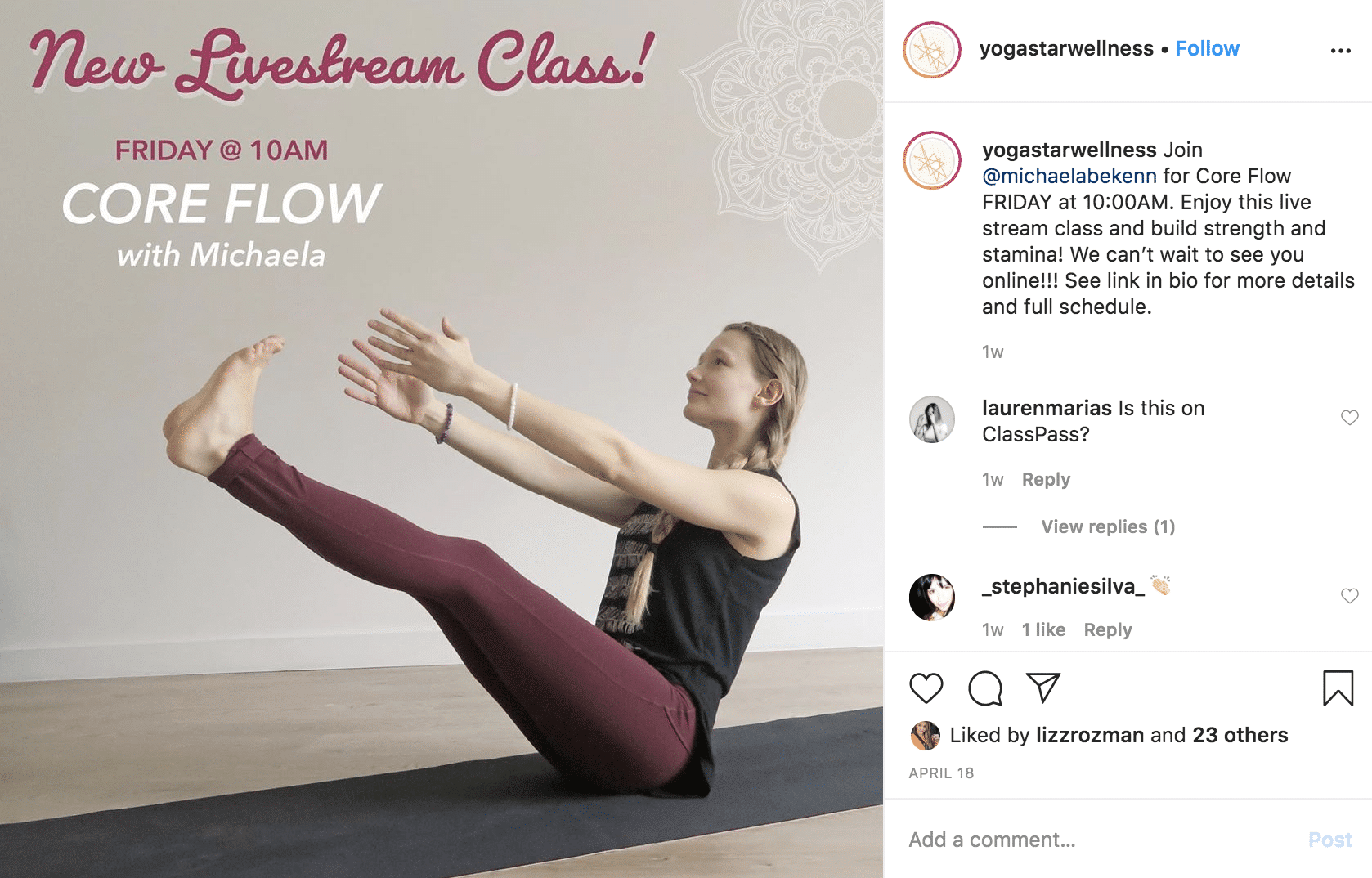 Located in trendy Roncesvalles in Toronto, Yoga Star's mission is to help people connect to themselves and each other to enhance their mind, body and spirit. Yoga Star welcomes beginners to the yoga practice and advanced Yogis, with classes suited to accommodate all ranges of abilities. Bring Yoga Star into your home with live stream classes, now on. Yoga Star currently has a promotion for a week's worth of unlimited online workouts for $18.
How to sign up: Head to Yoga Star's website to sign up for drop in online classes.
A bit of everything
Toronto based luxury wellness facility BOLO houses 2 fitness studios with classes ranging from boxing, bootcamps, and strength and core conditioning classes, including a one of a kind hot room where you can get extra sweaty. Founded on the principles of loving yourself from the inside out, BOLO is inclusive, body-positive, and safe place for all genders and sizes. Although the studio is now on hiatus, you can keep the BOLO vibes alive right in your home. Tune in on weekdays at 10 a.m. and 6 p.m. for free live workouts through Zoom, as well as IG Live fitness clinics and chats with the instructors.
If you can't get enough BOLO, head over to instructor Jay's Instagram, where you will find additional flows, drills, and mobility sequences.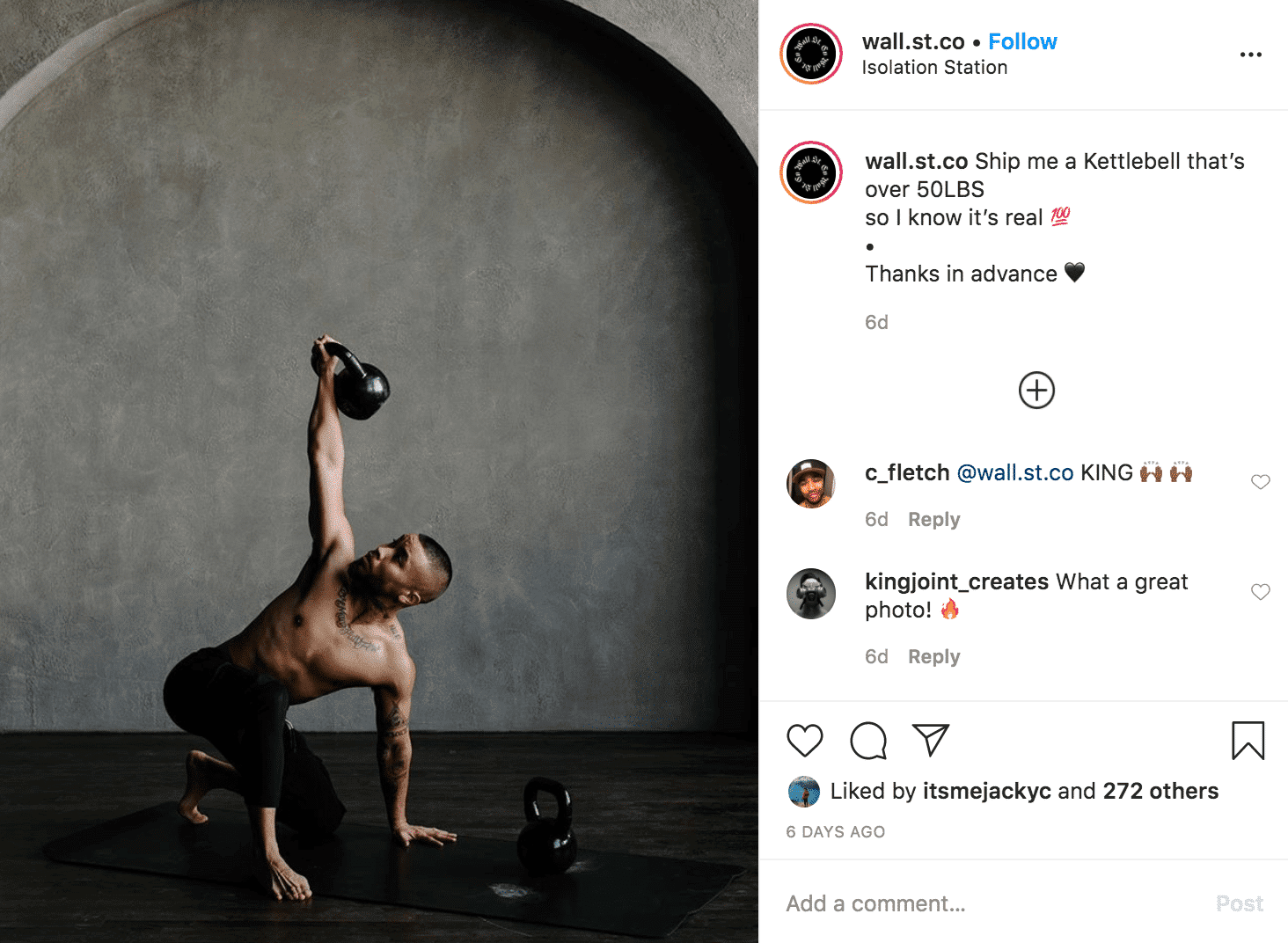 How to sign up: Reserve a spot through the BOLO or MindBody app. Remember to donate to their GoFundMe if you're financially able, to help the studio re-hire laid off workers and get up and running faster once legislation allows.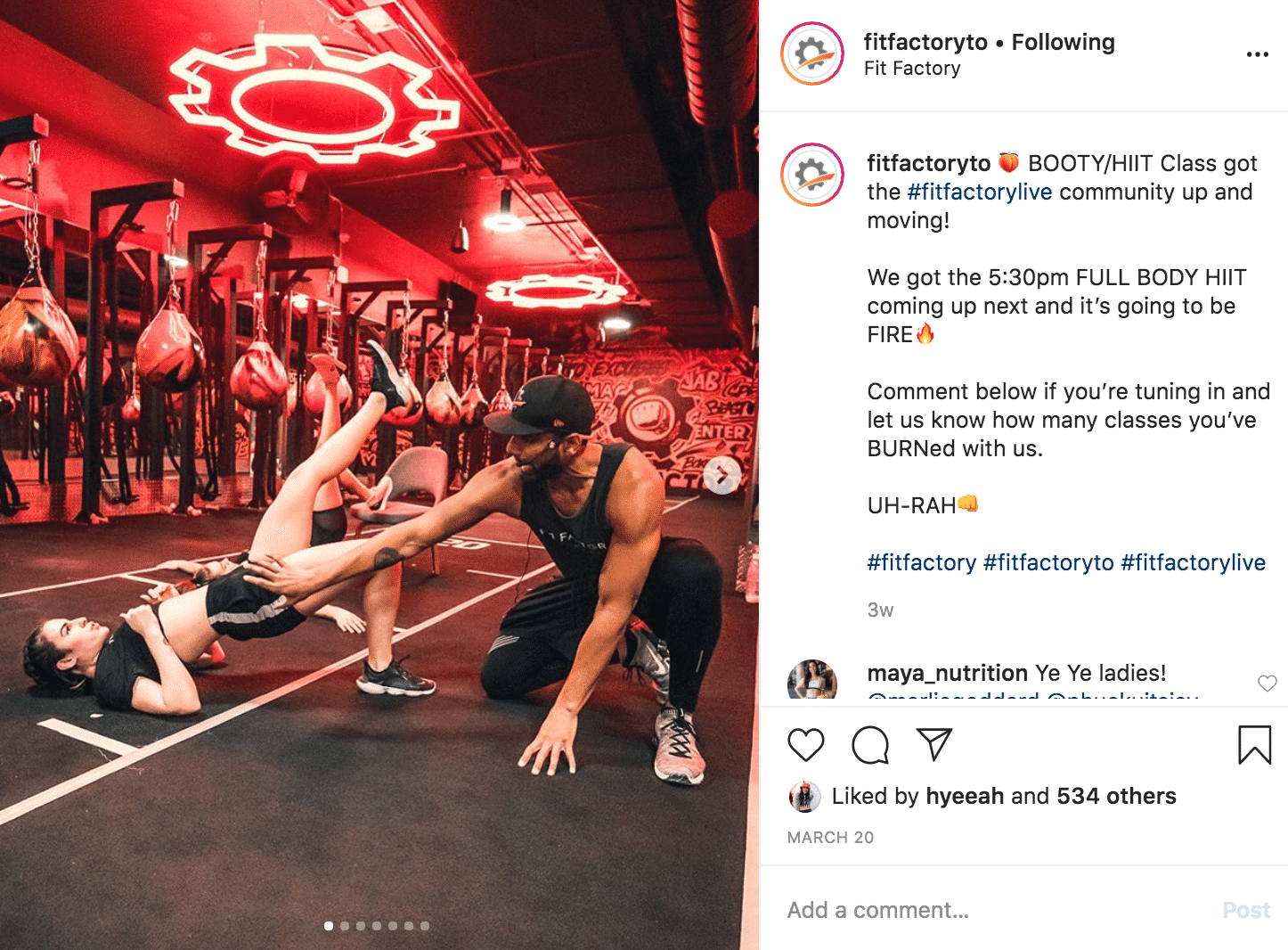 Voted Toronto's best group training gym/bootcamp, Fit Factory offer over 300 challenging workouts a month. Featuring a Skill Room and Drill Room with Bootcamp, Boxing, Strength, and Athletic Conditioning, Fit Factory's classic are unique and fun, helping gym goers get in the best shape of their life. Currently closed, Fit Factory keeps group fitness alive through IG Live workouts everyday at 12 p.m. and 5:30 p.m.
How to view: Tune into Instagram Live on Fit Factory's Instagram page.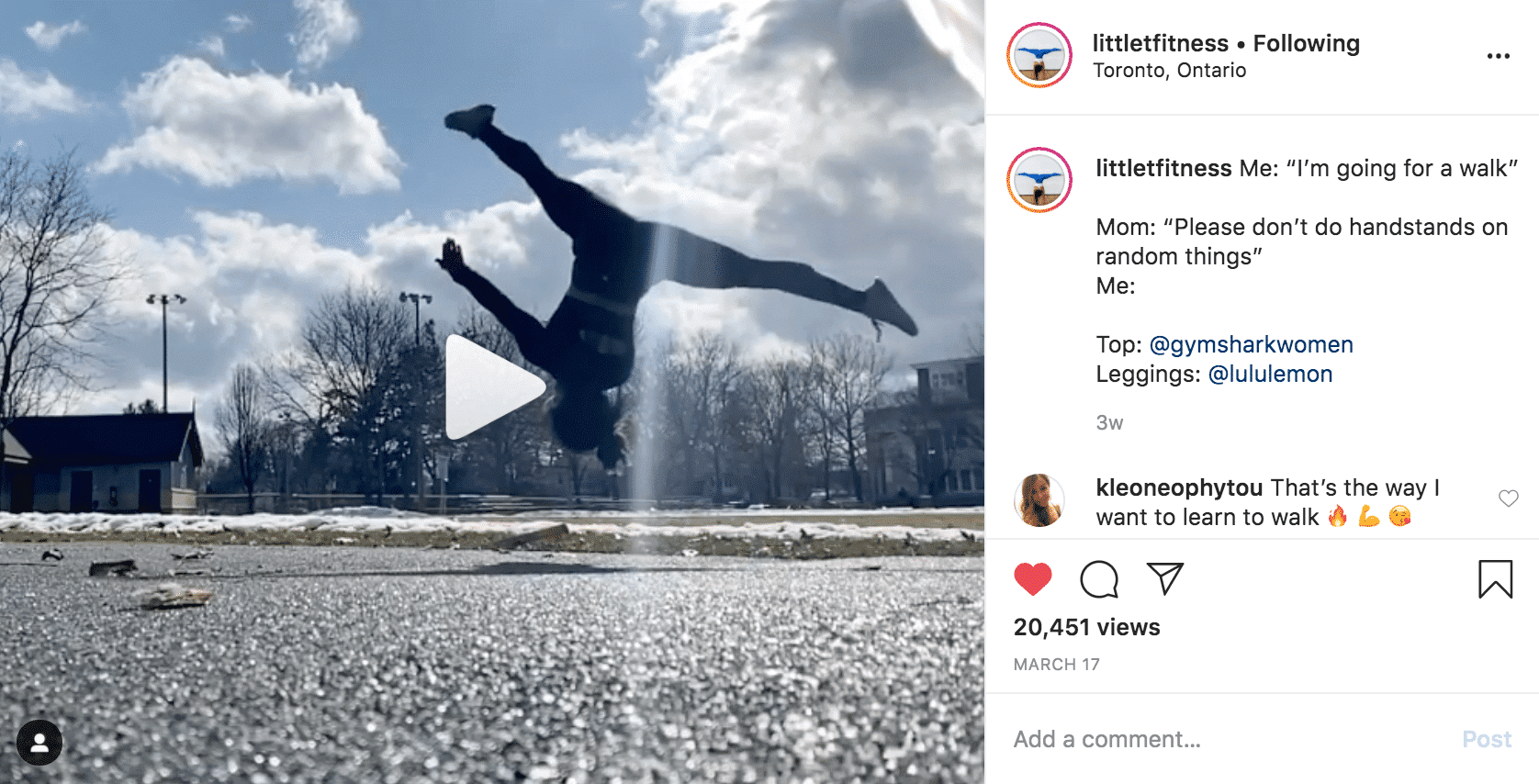 Former competitive dancer and gymnast, and current personal trainer, Taylor Learmont helps clients improve their quality of life by providing the right tools to live a life full of energy, confidence, and positivity. Taylor is currently offering online shared training sessions, which provide progressive monthly workout plans including strength and mobility exercises. On her Instagram channel, you can find weekly videos focussing on skills progressions, and even a workout using toilet paper!
How to sign up: Head over to Taylor's website to sign up for online training services or her Instagram channel for weekly videos.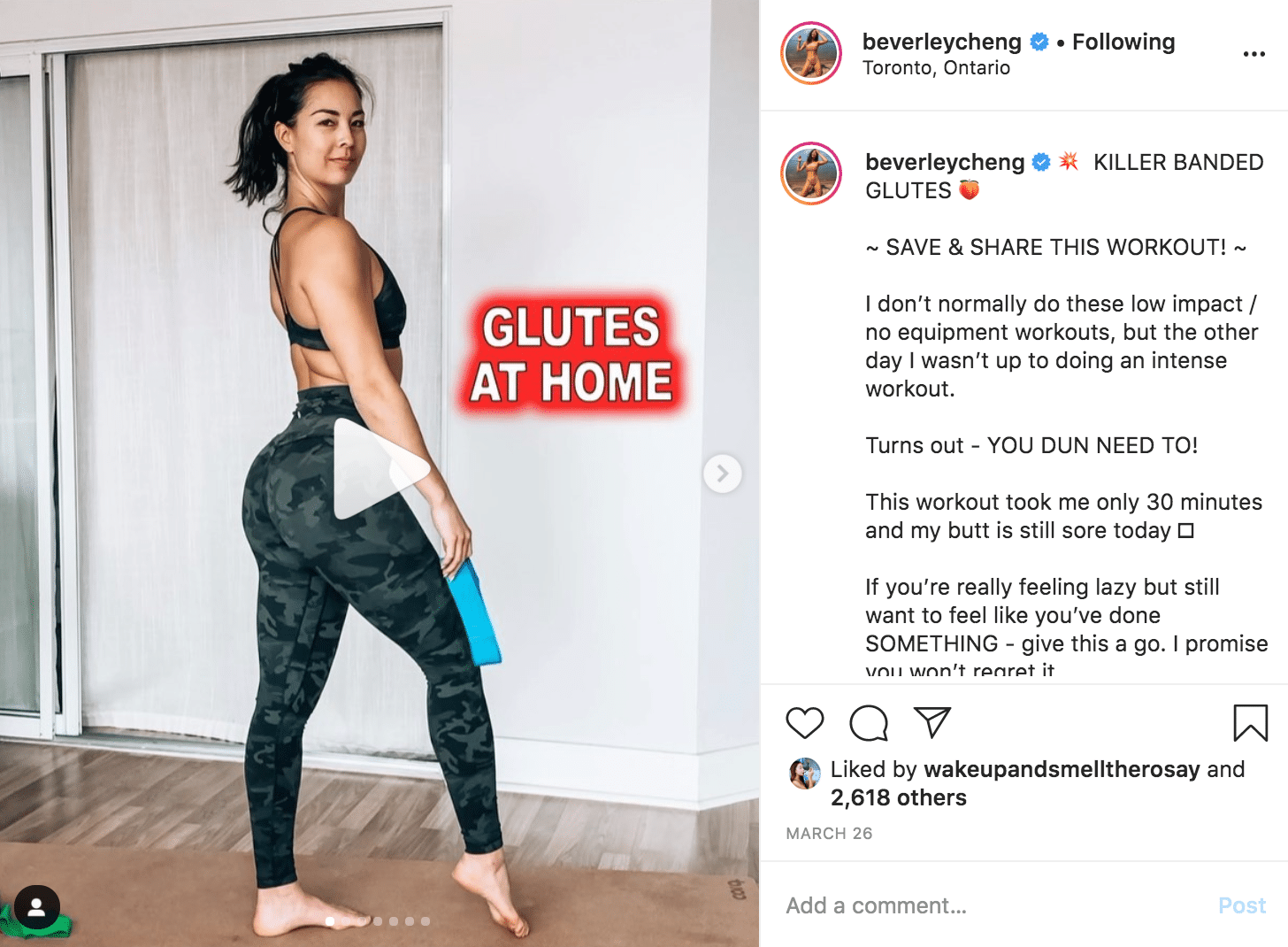 Fitness coach Beverley Cheng already offers a Fit From Home 21-day program designed to help you reach your fitness goals in 40 minutes a day. Complete with instructional video clips, sample daily meal plan, and designed to be completed at home. Beverley is also currently offering free live at-home workouts, focussing on a new area of the body each day. It's the ultimate in at-home, equipment-free fitness to keep the Quarantine 15 at bay.
How to view: Head to Beverley's Instagram Page and watch for her live class schedule drops. If you miss out on a class, Beverley also offers at-home videos on her feed.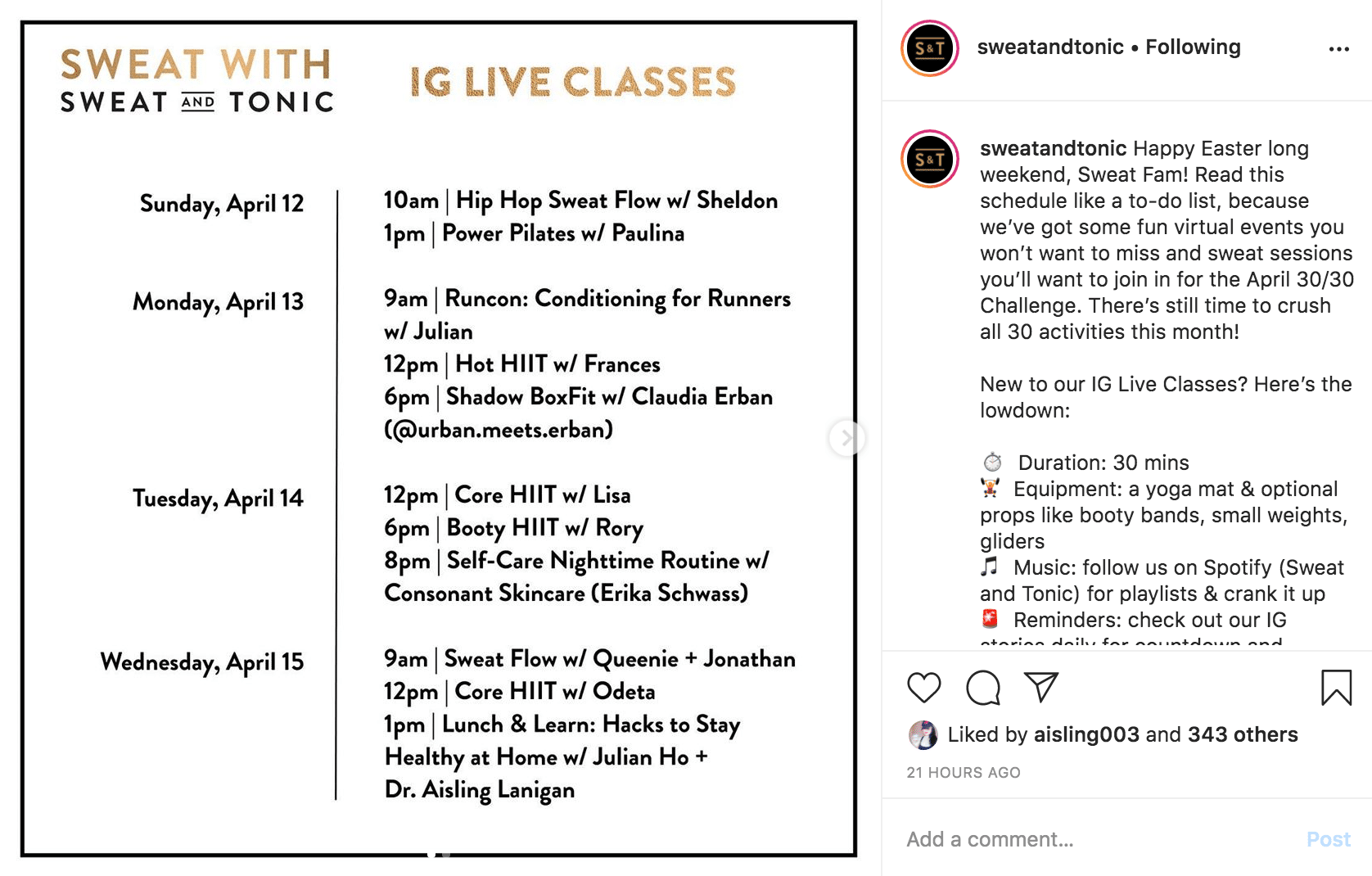 Gin and tonic? We prefer sweat and tonic, thank you. Yoga, HIIT & spin studio, cafe, spa, and bar all in one, Sweat and Tonic now occupies the space of Toronto's first cocktail bar, The Silver Rail, which opened in 1947. Running over 150 classes  across 3 studio rooms each week with handcrafted cocktails and artisan, nutrient-rich snacks available on site, Sweat and Tonic is the ultimate in fitness luxury. Currently on hiatus, you can get a piece of Sweat and Tonic online with up to four daily IG Live classes ranging from HIIT, pilates, conditioning, and sound healing.
How to join: Head to Sweat and Tonic's Instagram page where they release weekly class schedules.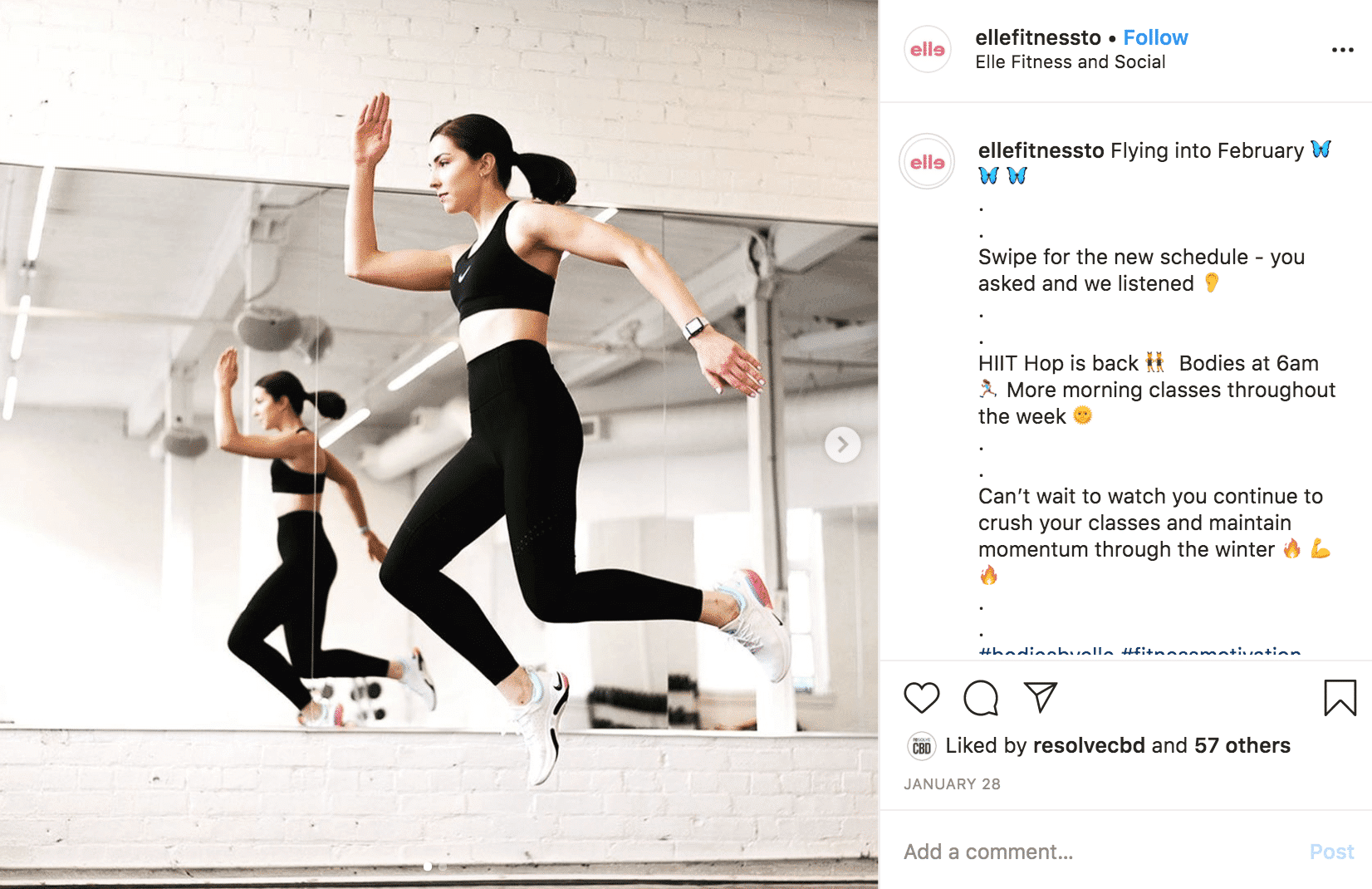 Women-only boutique fitness studio Elle Fitness and Social may fool you with its bright pink decor and Beyonce mural, but members are pushed to limit to achieve their fitness and lifestyle goals. From hardcore fitness fanatics to beginners, group workouts at Elle incorporate the latest fitness trends, kicking your ass in ways you never thought you wanted. Although a major part of Elle's appeal is the environment, you can bring Elle into your home with home workouts streaming every day on Instagram Live.
How to join: Head to Elle Fitness's Instagram page where they release weekly class schedules.
Want more at home workouts?
Check out The Sweat Series, where Baptiste Power Yoga instructor Daria rounds up more IG Live fitness livestreams at 7:30 p.m. EST every day. Daria also teaches Zoom yoga classes at 6 a.m. through PYC@Home.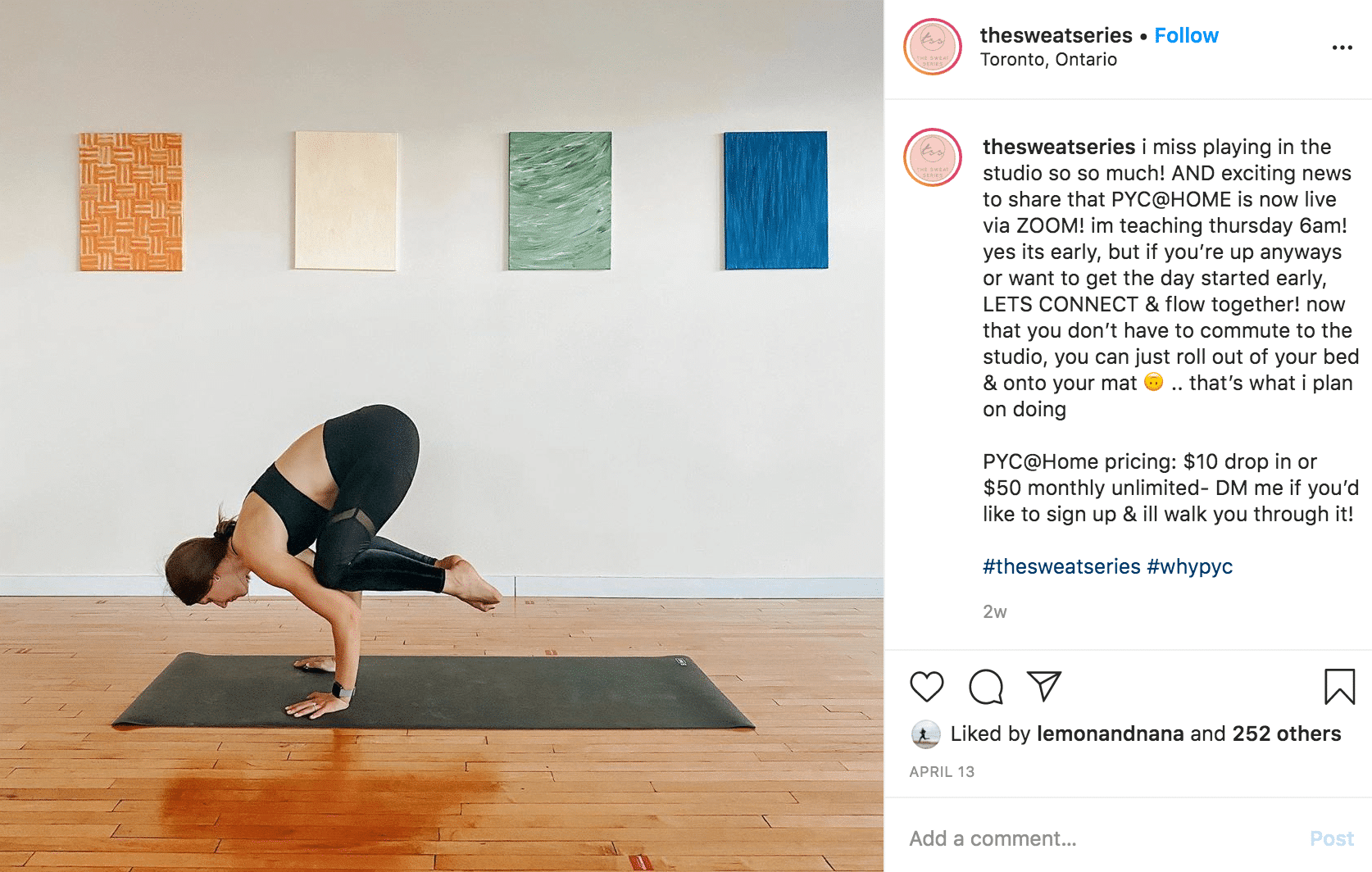 In pain?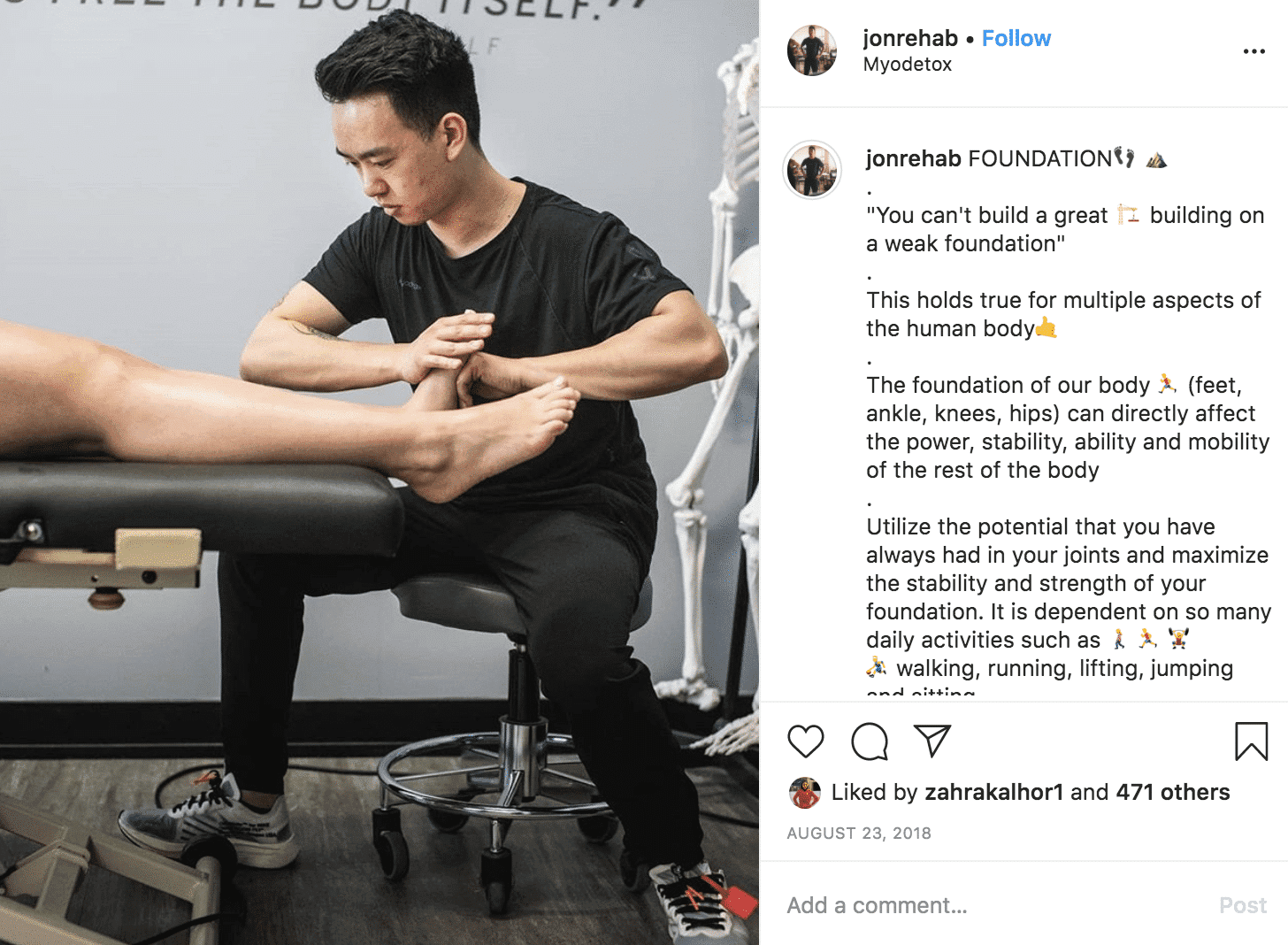 Myodetox RMT Jonathan Chow is a self proclaimed ambitious, down to earth, sneaker-head dedicated to manual therapy and movement programming. Jonathan and the team at Myodetox help clients re-balance and re-align in order to live a pain-free life. Although you may be missing your regular RMT appointments, you can relieve stress on your hips, back and more through the the comfort of your home. Catch Jonathan on Instagram Live, where he shares online mobility workshops geared toward desk workers, couch sitters, and self isolators.
How to view: Head to Jonathan's Instagram Page where posts regular stretches and movement workshops on IG Live.
DISCLAIMER: Information and products presented by resolveCBD are not intended to diagnose, treat, cure, or prevent any disease or ailment, nor is it intended to be a substitute or alternative for professional medical advice. Always consult with a licensed professional regarding medical treatment or possible interactions with prescribed drugs. Products are intended to be used as directed, by individuals who are 19 years of age or older.
|
Published March 29, 2020