How to bring CBD into the kitchen: feat. the Six Pack Chef
You may have caught Wallace Wong, aka the Six Pack Chef on our Instagram, cooking up yummy CBD Oil recipes like CBD Chicken Nuggets and CBD Slaw. But did you know there's more to Wong than his six pack? From finishing as a finalist on Top Chef Canada, to competing in international bodybuilding competitions, hosting his own podcast and beating cancer, the Six Pack Chef not only looks like a snack, but creates delicious ones too—all while keeping fitness goals in mind. Read on to learn more.
Wallace Wong isn't any ordinary chef with a knack for fitness. 
He's the Six Pack Chef: a professional chef, TV personality, podcaster, international bodybuilding competitor, and food photographer, all while holding hundreds of thousands of followers on social media, and maintaining his infamous physique. 
"Six Pack Chef is a direct representation of myself," Wong says. 
Based on three pillars of on food, fitness and a healthy lifestyle, EAT GOOD – LOOK GOOD – LIVE GREAT, Wong says the Six Pack Chef is a personality and accumulation of the last decade of his life experiences. Coined when Wong began competing in fitness competitions while working as a restaurant chef (other notable nicknames included Muscle Chef, Flex Chef, and Shredded Chef), Wong took inspiration from these nicknames, launching a brand based on eating well and looking better.
Formerly diagnosed as clinically obese, Wong knows all about achieving and maintaining a six pack without crash dieting, or sacrificing taste or adventurous eating. For many, eating healthy may look like chicken, rice, and broccoli every day—to Wong, it's based on how much one can add to a diet to make it wholesome and flavourful without sacrificing their health goals.
"Most diets start off on a negative of 'how much do I need to remove or take away' and I think that mindset right away makes dieting very hard," he explains. 
Although Wong keeps his best kept secrets to making healthy food taste delicious close to his heart—you'll have to purchase his e-book How to Survive a Diet for the real goods—we did get a few pieces of advice out of him for those wanting to start leading a healthier lifestyle who don't know where to start.
"First, reduce all the junk [you] eat by half and stick to it for a week or two. Then, cut it all out and stick to it for a [another] week or two," he says. "From there, you should already see results by removing a lot of unnecessary or empty calories. After that I would look into getting into [a] routine of eating 3-5 meals a day."
For those who want Wong's six pack, however, he says it's not all about pumping heavy iron at the gym. 
Since Wong has elderly and those vulnerable to health concerns close to him, he says he tends to stay home for the most part, focusing on his diet to stay fit and healthy during the pandemic. 
"It's very true that abs are made in the kitchen!" 
As for a fitness routine? "I only have been working out at home with a set of 25lb dumbbells, and an 80lb barbell a local gym loaned me," he says. "I also have an elliptical. Those have been my 'gym equipment' and I get creative making the most out of them. I currently train six days a week."
It's not all about routine with Wong, though. As a self-proclaimed "freestyle chef," Wong says he approaches cooking like how a musician, rapper or artist would— by just doing their thing on a beat, song, theme or canvas.
"I freestyle and cook without rules or guidelines. Anything goes. Anything," he says. 
From cooking a whole roasted pig over a fire pit ("I had to also build the pit from scratch!") to infusing CBD into his recipes (scroll down for two exclusive CBD Oil recipes), Wong says even his everyday foods would be considered adventurous to most, although to him they're just "throwing things together."
Perhaps his adventurous nature comes from working in some of the most respected restaurants in the world, including Langdon Hall in Canada, NOMA in Denmark, Alinea in Chicago, and opening Momofuku Shoto under David Chang in Toronto. If that wasn't enough, Wong has also competed in and won Chopped Canada and Fridge Wars, as well as finished as a finalist on Top Chef Canada and Bake it Possible.
"I needed to prove to everyone that you don't have to be a chef in a restaurant to be a great chef," he says of competing on Top Chef Canada. "I haven't worked in restaurants for the last seven years and to be able to cook with the best and arguably be seen as someone who could have or should have won Top Chef Canada is an amazing experience!"
For home cooks who aren't quite at Wong's level just yet, he recommends simply starting off their culinary adventure with a sharp chef's knife—the most essential kitchen tool, according to him. 
And if he had to eat just one food for the rest of his life? "It would be any meat cooked with bones, whether fried, grilled, roasted or braised…chicken wings, whole chicken, roast fish, ribs, drumsticks, oxtails, shanks…I think you get the drift!"
Want more Six Pack Chef? You can catch Wong on What's Cooking, his IG Live series on Instagram, Serving It Up, his food/health/lifestyle Podcast, and TikTok, chopping vegetables with his six pack on full display. 
As a special gift to resolveCBD, Wong has also created two exclusive CBD infused recipes, which you can find below.
CBD Oil Recipes
FRESH & ZESTY CBD GUACAMOLE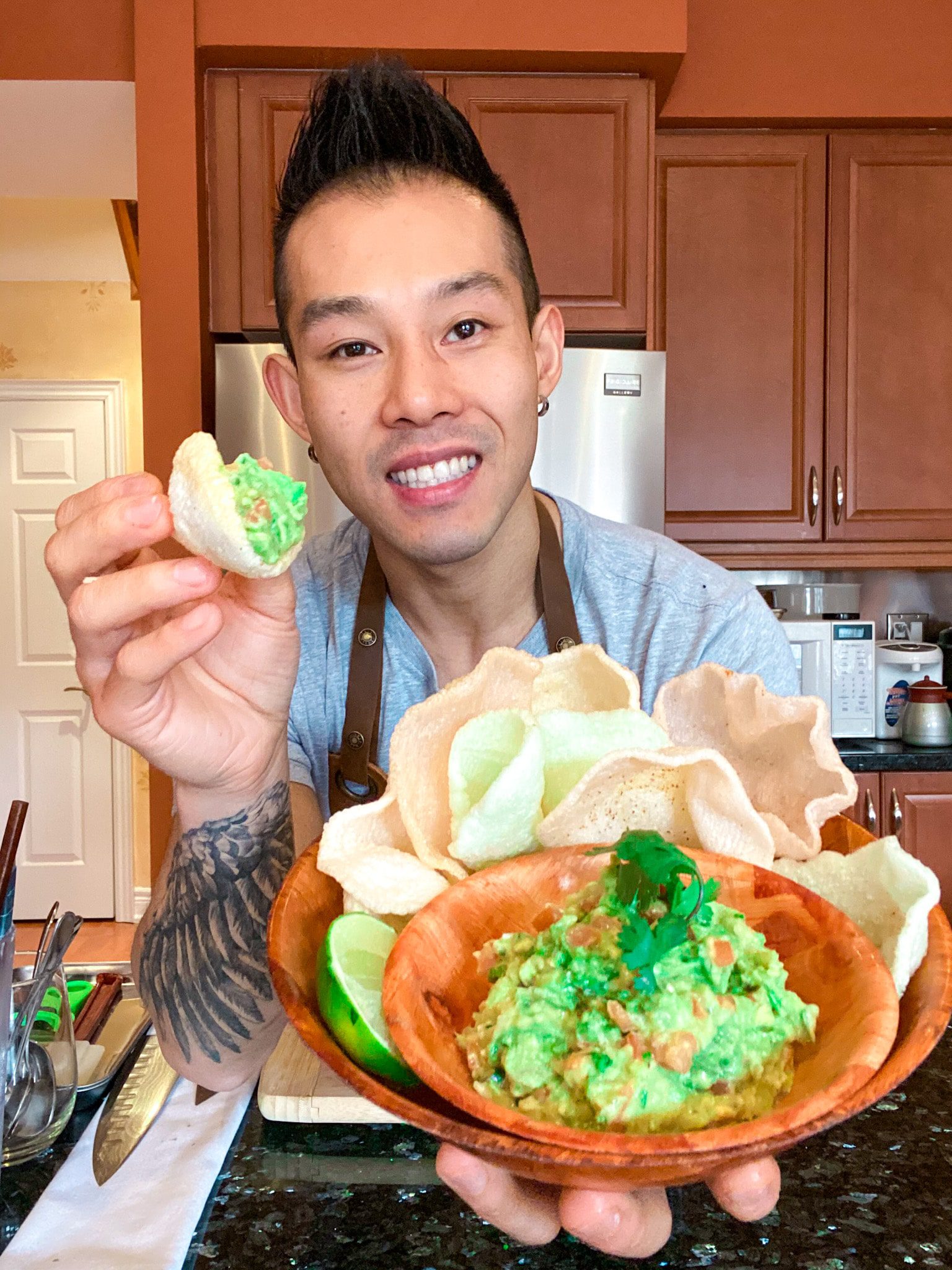 Makes 4 Cups
Ingredients:
4 Large Ripe Avocados

½ Cup White Onion, finely chopped

1 Jalapeno, finely chopped

¼ Cup Tomatos, finely diced

1 Large Garlic Clove, finely minced or grated

2 Large Limes, freshly juiced

1 ½ Tsp salt

¼ Cup Fresh Cilantro, finely chopped

3-4 Mint Leaves, finely chopped

Splash favourite hot sauce
Method:
Smash avocados with a fork in a medium bowl until chunky mashed. Mix in all the other ingredients and adjust seasonings to your preference

Serve with favourite chips or crackers
STRAWBERRY ROSE & MINT CREME BRÛLÉE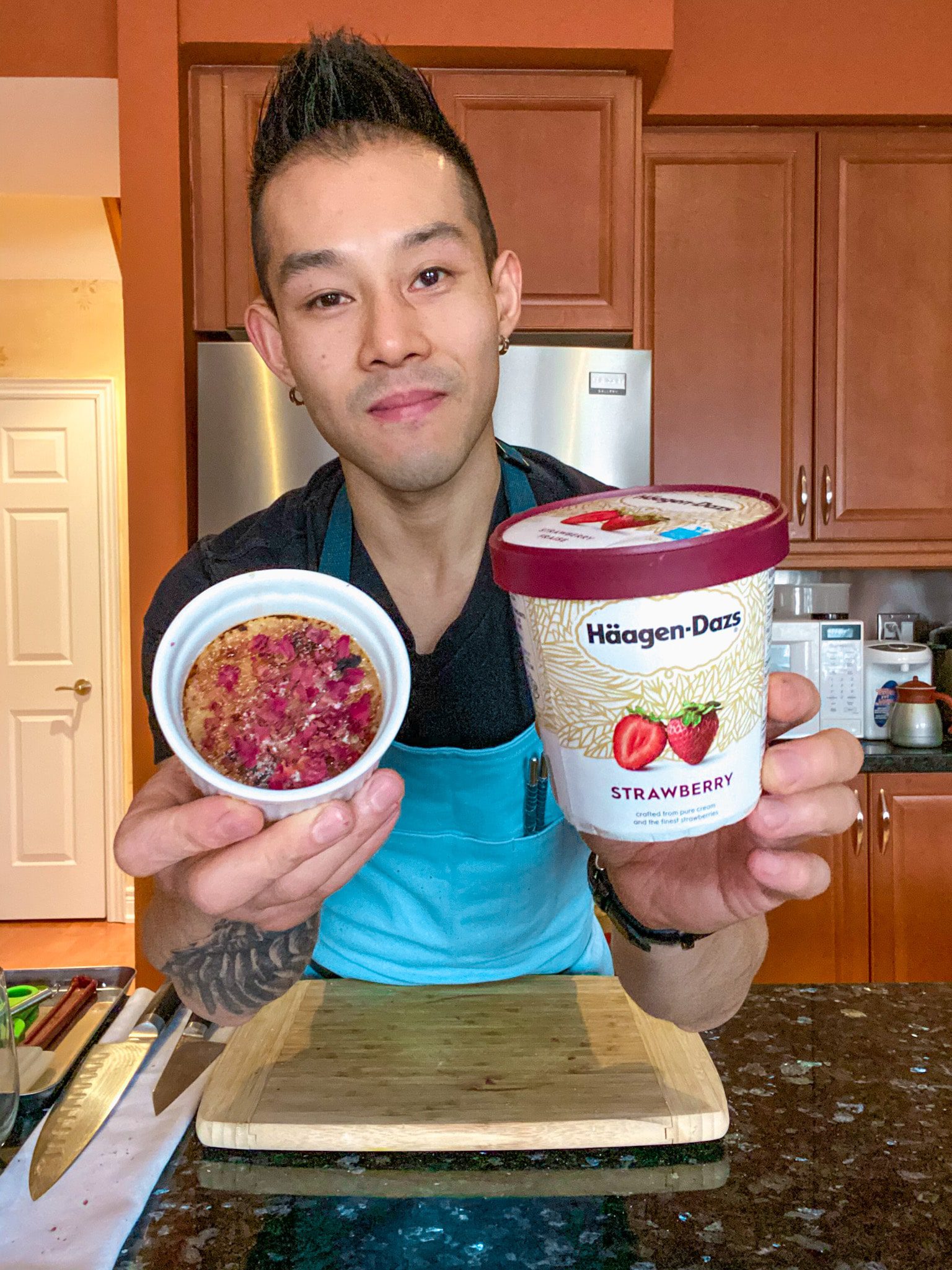 Makes 2 Servings
Ingredients:
1 Cup Strawberry Ice Cream, a higher quality brand such as Haagen Daz will provide the best consistency

2 Egg Yolks

2 Dried Rose Tea bud, crushed (more for garnish if desired)

1.5 Tbsp White Sugar
Method:
Preheat your  oven to 325˚F 

Take your ice cream and melt it in a microwave. Go in 15-20 second intervals

Combine the melted ice cream, crushed rose tea buds with the egg yolks

Add your resolveCBD Peppermint CBD Oil

Pour the anglaise mixture into individual oven safe ramekins and place in a deep pan

Bring the pan to the oven and then fill with hot water until it comes up halfway up the sides of the ramekin

Bake for 30-50 minutes. Depending on your oven this will vary. I suggest checking on it every 10 minutes to see the consistency.

It should be set but still slightly jiggly in the centre

Remove and let cool fully in the fridge

Take the chilled creme brûlées, dividing the sugar between the two, sprinkle all over the top

Using a blow torch melt the sugar until golden and crispy. If no blow torch, use the Broil setting in your oven and keep an eye on it as it can over cook or burn

Let the sugar cool for 5 minutes before sprinkling on some more crushed rose buds

Enjoy!
DISCLAIMER: Information and products presented by resolveCBD are not intended to diagnose, treat, cure, or prevent any disease or ailment, nor is it intended to be a substitute or alternative for professional medical advice. Always consult with a licensed professional regarding medical treatment or possible interactions with prescribed drugs. Products are intended to be used as directed, by individuals who are 19 years of age or older.
|
Published September 9, 2020