Hemp oil vs. CBD oil…and why the difference matters
Hemp oil vs CBD oil, if you've ever asked what's the difference, you're not the only one. To help clear confusion we'll answer the most common hemp oil vs CBD oil questions for you. 
CBD (Cannabidiol) is derived from the hemp plant, which is one of the reasons some people confuse hemp oil and CBD oil. Another common mistake is how hemp oil and CBD oil are used interchangeably. The truth is the two types of oils are vastly different and offer different types of health benefits to the body.
To put it simply, when it comes to hemp oil vs CBD oil, the biggest difference is that hemp oil does not contain any CBD, but it still offers a ton of nutritional benefits.
What is hemp seed oil? 
It all starts with the plant and how each oil is derived and made. Hemp seed oil, more commonly referred to as hemp oil, comes from the seeds of the Cannabis sativa plant, as the name suggests, and marijuana (Cannabis indica). Both hemp oil and CBD oil come from the sativa strain and contain essentially no Tetrahydrocannabinol (THC), the psychoactive constituent of cannabis, found in much higher quantities in the indica strain.
How is hemp oil made?
Hemp seed oil is harvested by cold-pressing hemp seeds. After being pressed, hemp seed oil is often unrefined. This extraction method is similar to how coconut oil and olive oil are also produced. In its pure form, hemp seed oil is a clear green oil and can have a nutty-like flavour.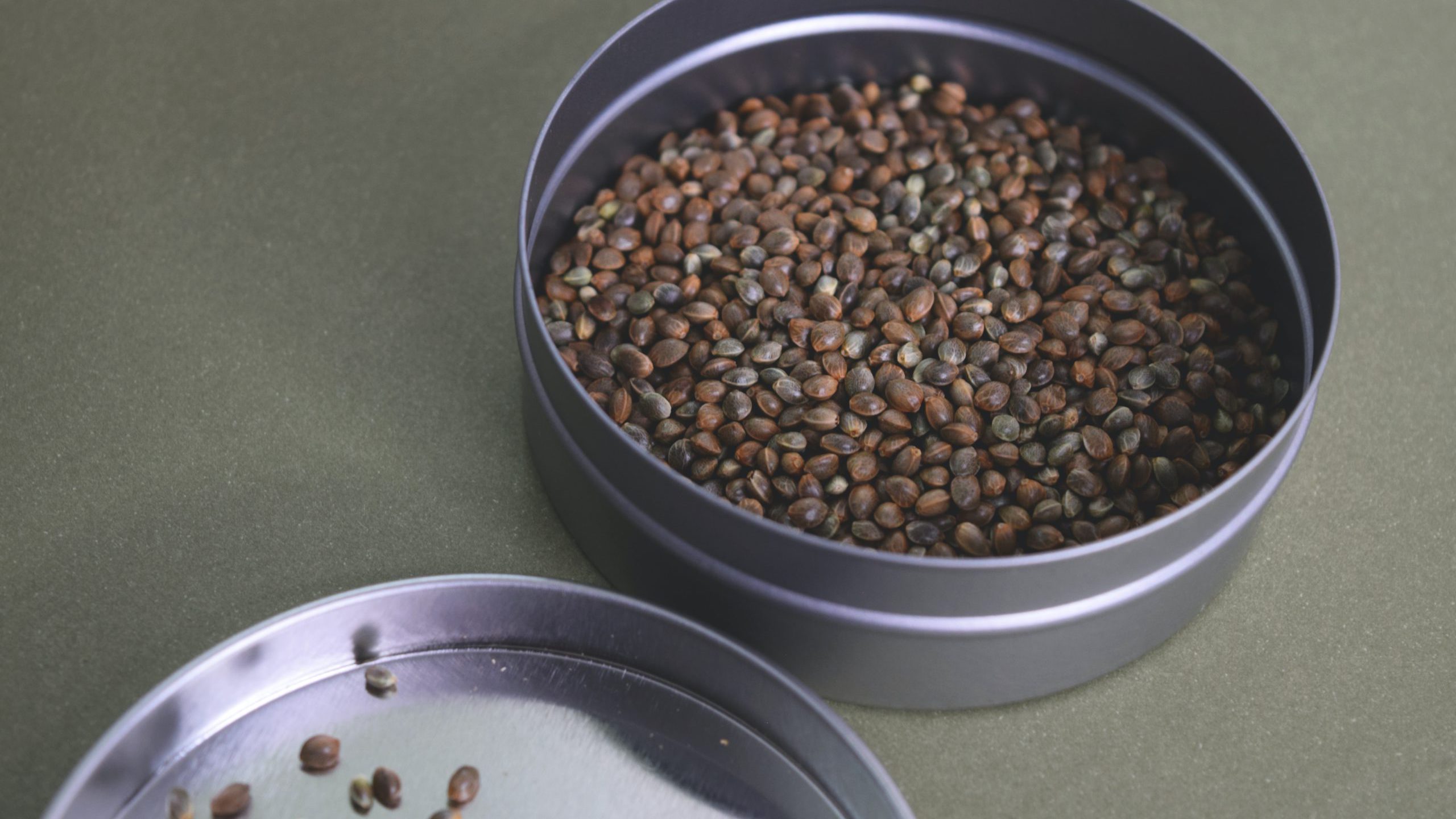 What are the benefits and uses of hemp oil?
Hemp oil offers many health benefits to the body, especially for skin and nutrition. Hemp oil contains omega-6 and omega-3 fatty acids (the good type of fats), gamma linolenic acid, which the body converts to substances that reduce inflammation, and antioxidants. Hemp oil also contains Vitamins B and D, and provides one of the best sources of plant-based protein.
Hemp oil provides a ton of nutrients to the body, which is why it is found in supplements, capsules, and other food products from snack bars to bread and even milk. Hemp oil can also be kept in your pantry and be added manually as you cook, have your morning coffee or make your go-to drinks, snacks and recipes. It's believed hemp oil's high contents of omega-3's help with heart and cardiovascular health, immune function, and cholesterol levels. One study found promising results in how hemp seed can help boost the health of those who suffer from heart disease and related issues, but it also found more research was needed.
Omega 6 is known to help reduce inflammation which also makes hemp oil an attractive, natural solution for skin conditions. One study found hemp seed oil to be super effective in treating Atopic dermatitis, better known as eczema.
Hemp seed oil is now commonly found in beauty products such as moisturizers and other topicals because of its anti-inflammatory properties, it's also said to help treat dryness, fine lines and wrinkles.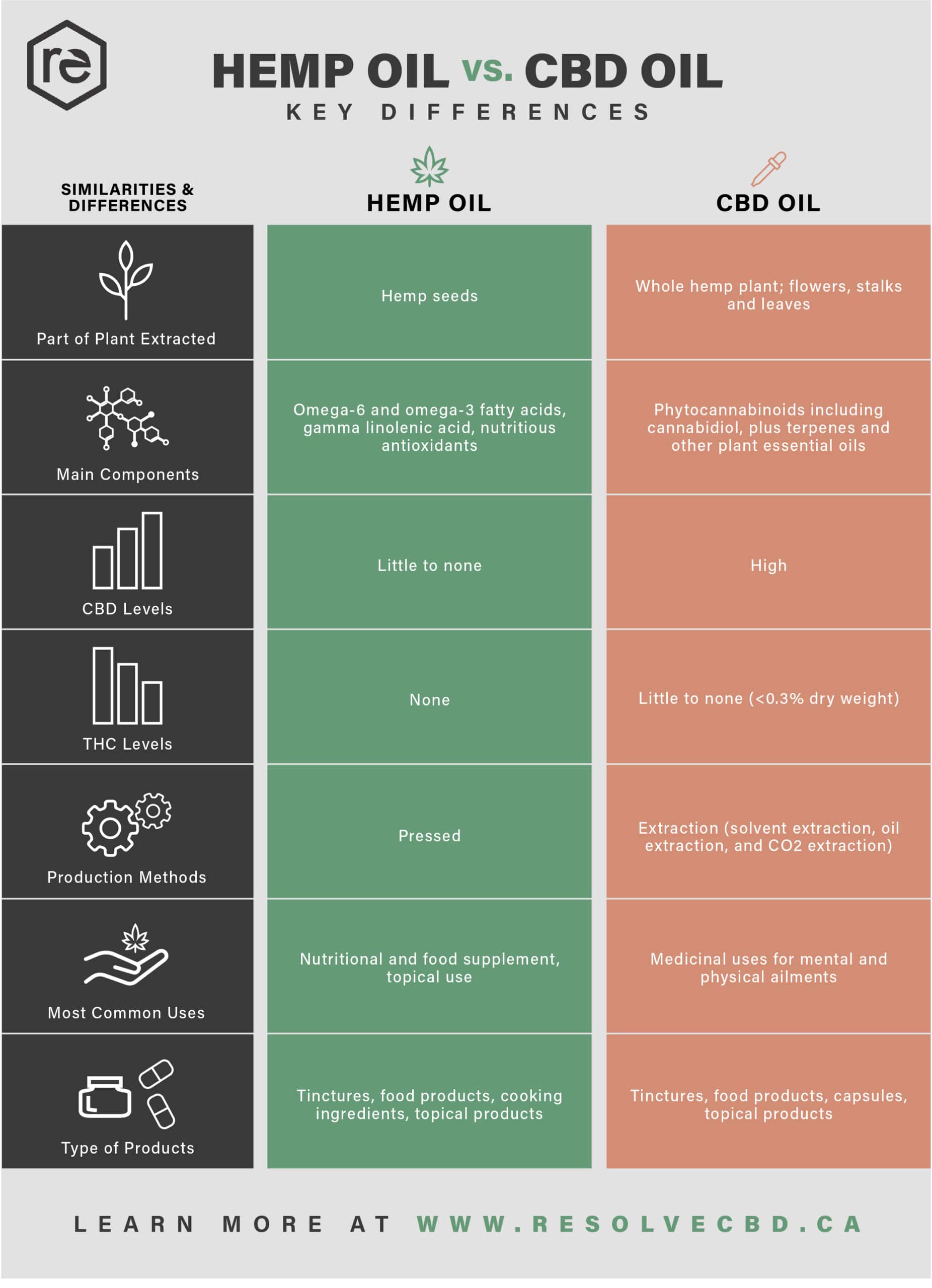 Hemp oil vs CBD oil: main differences
1. Hemp oil and CBD oil are derived from different parts of the hemp plant
Whereas hemp oil is only derived from the plant's seeds, CBD oil is made from the whole plant, including flowers, stalks and leaves, which are the only parts of the plant where cannabidiol is found. 
2. Hemp oil is pressed while CBD can be extracted in three different ways
Whereas hemp oil is pressed from seeds, CBD is extracted from the hemp plant using a number of different methods. The three most common CBD extraction methods are solvent extraction, oil extraction, and CO2 extraction. After extraction, the resultant oil mostly resembles a crude oil. To produce CBD oil, winterization and filtration are the next steps of the process, which then produce a full-spectrum CBD oil. As CBD oil comes from the hemp plant like hemp seed oil, there is a negligible THC content—less than 0.3% dry weight, (which is why it is non-psychoactive).
3. CBD oil reacts with the ECS to treat more medicinal issues than hemp oil
CBD Oil is known for its positive health effects on the mind and body. CBD oil is used to treat everything from mental health conditions such as anxiety and depression, while also being beneficial for chronic pain such as arthritis and joint pain. 
Similarly to hemp oil, CBD oil can also be used to treat skin conditions such as eczema and is also proven effective to treat acne and rosacea as it also has anti-inflammatory properties.
CBD oil's ability to treat more medicinal conditions than hemp oil is attributed to its ability to work with the body's Endocannabinoid System or ECS to maintain physical and mental balance. Components of CBD oil interact with the brain and the body's immune system's endocannabinoid receptors – the proteins attached to cells that receive chemical signals and help cells respond to different stimulants. Studies have found that this interaction between CBD oil and the ECS creates the anti-inflammatory and pain-relieving impacts that are associated with CBD.
4. CBD oil is available in three forms while hemp oil is only available in one
CBD is available in three forms: full spectrum, broad spectrum, and isolate. Full spectrum CBD contains all 100+ helpful cannabinoids found in the hemp plant. Due to this, the body is able to benefit from the entire plant, known as the Entourage Effect. Broad spectrum CBD oil is CBD oil that contains all cannabinoids except THC, and CBD isolate contains only CBD and no other cannabinoids.
To break it down more simply, hemp oil offers more nutritional benefits and contains little to no CBD. CBD oil on the other hand, provides both overall mental and physical health benefits and contains high amounts of beneficial cannabinoids.
Both hemp oil and CBD oil are safe for most adults, different hemp oil and CBD oils can also be used together to treat different health issues.
Hemp oil products: what to consider
When deciding between hemp oil vs CBD oil, it's always important to read and research a brand and product before adding them to your cart while also considering what type of health issue you're trying to treat. Depending on the product, hemp seed oil may be listed as cannabis sativa seed oil. CBD will usually be listed as cannabidiol but can also include terms such as full-spectrum hemp, hemp oil, PCR (phytocannabinoid-rich) or PCR hemp extracts. 
Be sure to read the full ingredients list as both hemp oil products and CBD oil products such as gummies or other food types can also contain other components. The same goes for topical products. Each brand and product will contain varying amounts of hemp seed oil and CBD, while both are considered safe for most adults, and in the case of CBD, safe for pets also, understanding how much you need is also essential in determining the best product for you.
Find out how much CBD is right for you by taking this quiz.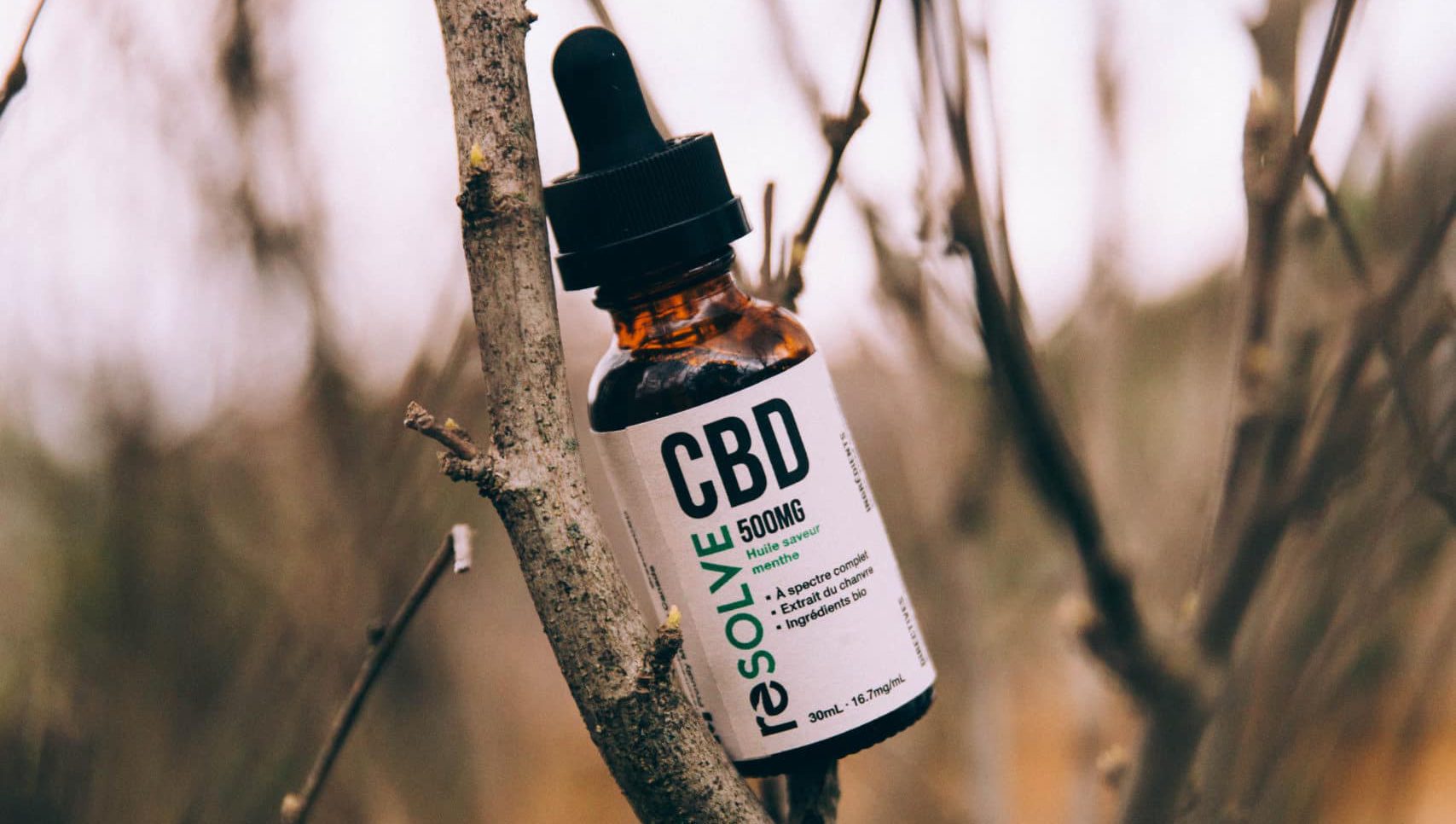 When looking for the right hemp oil products, this Mayo Clinic guide provides the best questions to ask when doing your research:
1. Does it meet the following quality standards? 
Current Good Manufacturing Practices (CGMP) certification from the US Food and Drug Administration

European Union (EU), Australian (AUS), or Canadian (CFIA) organic certification

National Science Foundation (NSF) International certification
2. Does the company have an independent adverse event reporting program?
3. Is the product certified organic or ecologically farmed?
4. Have their products been laboratory tested by batch to confirm tetrahydrocannabinol levels <0.3% and no pesticides or heavy metals?
It's also important to know the legality of hemp products. The levels of THC and CBD help to determine its legality in different countries and states in the US. In Canada, products made of industrial hemp are legal. It is also legal to grow hemp with the appropriate licence. Hemp farming is licensed under the Industrial Hemp Program. In Canada, hemp products and marijuana are both regulated under The Cannabis Act (Bill C-45).
The hemp world is an ever-growing resource for natural health treatments, but confusion can be expected when terms aren't used or understood correctly. By breaking down the differences in how hemp oil and CBD oil are made and more importantly, what they offer, more people will have access and understanding to how the hemp plant offers a variety of health solutions.
Hemp oil and CBD have lots to offer and all comes down to what type of health benefits you're looking for.
While research around the full benefits of hemp oil vs. CBD is growing, it's fair to say that one type is not more beneficial than the other – it all comes down to the type of ailments you're trying to treat. If you're looking to improve your diet and nutrition and boost heart and brain health, hemp oil may be better suited for you. Whereas if you're having trouble sleeping, dealing with anxiety or muscle and joint pain, CBD may be more beneficial. 
More studies are needed to fully understand all the benefits hemp oil and CBD oil can offer, but both have proven to offer natural health solutions.
DISCLAIMER: Information and products presented by resolveCBD are not intended to diagnose, treat, cure, or prevent any disease or ailment, nor is it intended to be a substitute or alternative for professional medical advice. Always consult with a licensed professional regarding medical treatment or possible interactions with prescribed drugs. Products are intended to be used as directed, by individuals who are 19 years of age or older.
|
Published March 18, 2021