Broad Spectrum, Full Spectrum, Isolate: Differences Explained
CBD continues to increase in popularity as more people are becoming aware of its many physical and mental benefits and, as a result, are willing to give it a try. That said, knowledge about CBD (cannabidiol) is still very general. When shopping for CBD, you may have come across the terms full spectrum CBD, broad spectrum, or isolate. Confused about what exactly CBD is? Check out our first timer's guide here.
The reality is that there is no one-size-fits-all CBD; there are different types of CBD that have different components, and as a result, have different effects. Because of this, resolveCBD is committed to CBD education and helping people achieve a safe and positive experience with CBD oil. 
Before purchasing a CBD oil, it's best to understand the different types to ensure you are choosing the product best suited to you and your unique needs. 
The Different Types of CBD: Broad Spectrum, Full Spectrum & Isolate
There are three common types of CBD extractions that are used in CBD oil: full spectrum, isolate and broad spectrum. 
The major defining element of these types of CBD are the balance of cannabinoids – the naturally occurring compounds found in hemp and marijuana plants. In fact, the hemp and marijuana plants (collectively, cannabis) contains hundreds of cannabinoids, of which CBD is one.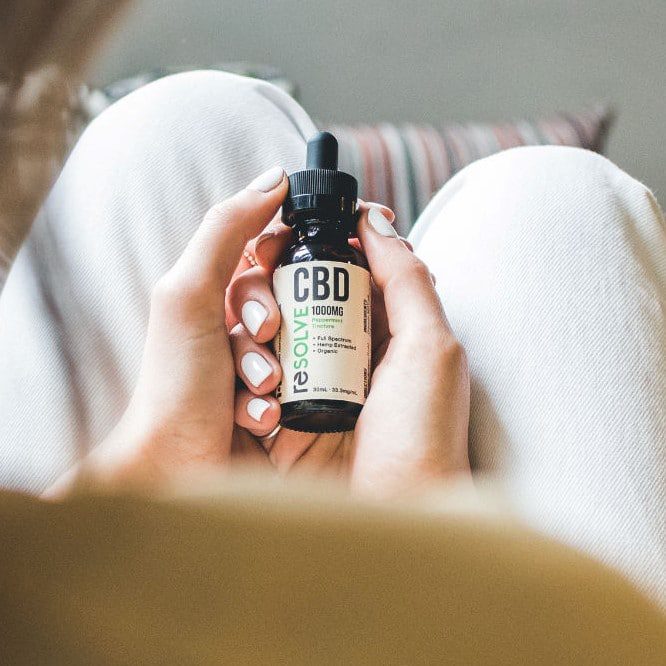 Full Spectrum CBD
What Is Full Spectrum CBD Oil?
This CBD is composed of all of the chemical compounds that naturally occur in the cannabis plant. It contains all of the cannabinoids contained in the cannabis plant, as well as minerals, fatty acids, essential oils, flavonoids, terpenes, proteins, chlorophyll, and low levels of other types of cannabinoids, including CGB, CBN, and the most well-known, THC. 
There are low levels of THC in full spectrum CBD but it is rich in CBD. This is why it is important to understand whether your CBD is hemp derived or marijuana derived, as hemp naturally has very low levels of THC (<0.3% dry weight), while marijuana derived CBD could contain higher levels of THC. While there are trace amounts of THC in hemp derived full spectrum CBD, there is not enough to experience psychoactive effects, even at very high doses. 
Because full spectrum CBD contains all compounds that naturally occur in the plant, your body is able to benefit from the entire plant when you consume this type of CBD oil. This brings on the Entourage Effect; the term used to describe the synergistic relationship of the compounds that naturally occur in cannabis (i.e. what the body experiences when all the compounds of the cannabis plant work together upon consumption).
What Does Full Spectrum CBD Do?
This type of CBD is beneficial for those who suffer from chronic pain and swelling. It contains all the nutrients in cannabis that helps to relieve both pain and inflammation. This type of CBD oil has been known to effectively treat cramps and migraines thanks to its diverse cannabinoid content.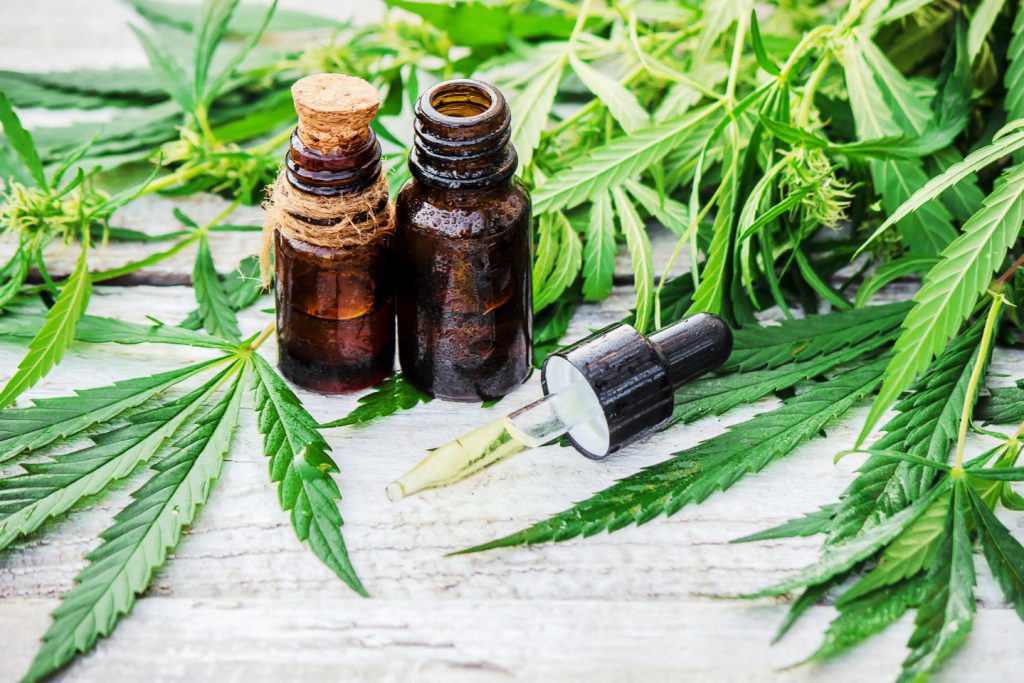 2. CBD Isolate
What is CBD Isolate?
CBD isolate is the purest form of CBD, as it is CBD that has been separated (i.e. isolated) from the other compounds that naturally occur in the cannabis plant. CBD isolate contains virtually zero THC. 
This CBD is about 99% pure and looks like a crystalline white powder. It is either synthesized in a lab or made from a plant that contains CBD, like hemp or marijuana.
What does CBD Isolate do?
CBD isolate is commonly used to treat general health and, like full-spectrum CBD, helps to relieve pain and inflammation. It can be applied topically when mixed with carrier oils like MCT oil to help reduce skin conditions like acne, or it can be mixed with other oils or butter to make edibles.  
3. Broad Spectrum CBD
What is Broad Spectrum CBD?
Broad spectrum CBD is any type of CBD product that contains various cannabinoids but no THC. This allows you to benefit from the entourage effect without consuming any THC.
Understanding the Differences
The reality is that isolate CBD is the only option for those who live in places where medical cannabis is not legal. That said, when you do have the option between the two, it's important to understand their differences.
When looking to purchase CBD, it's important to identify what you want from the experience, and by extension, what type of product you are looking for. CBD education is essential when purchasing a product so that you can better understand not only its effects but the makeup of these products that provide these effects. 
It's important to be aware of a CBD oil's THC content as it will help you decide whether it's right for you and how you will use the product. For example, although full spectrum CBD contains only trace amounts of THC and is non-psychoactive, it may show up in a drug test.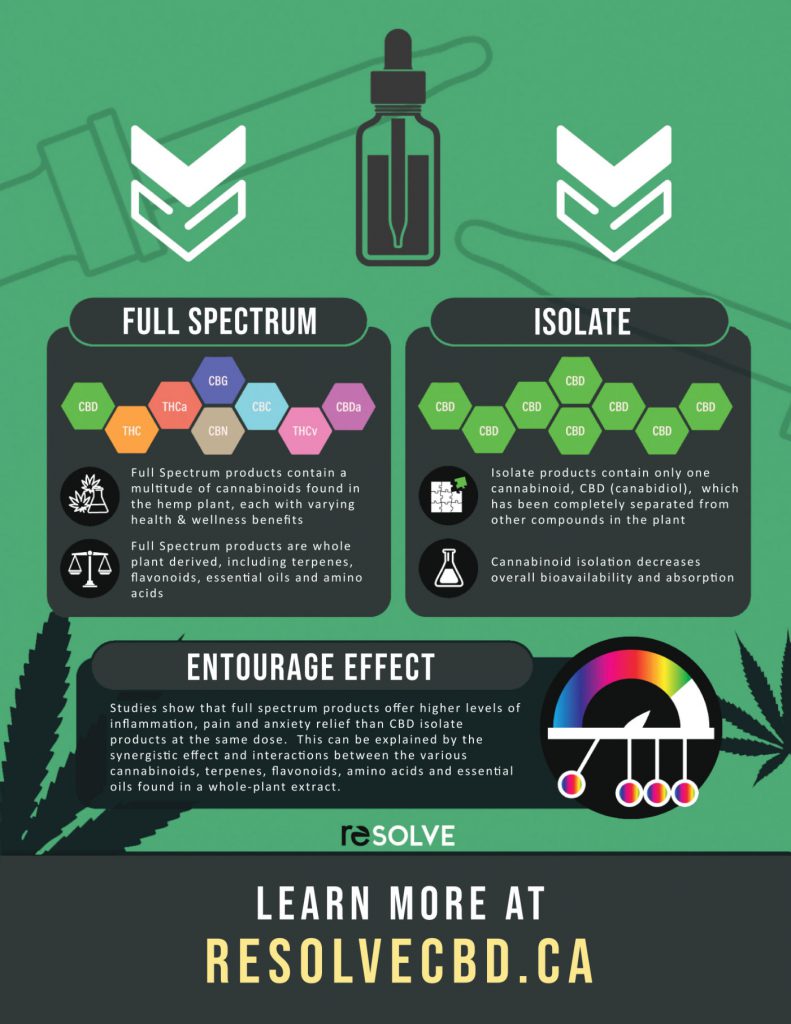 Full Spectrum vs. Isolate CBD
There are clear differences between full spectrum and isolate CBD. Whereas full spectrum utilizes, quite literally, the full plant, isolate CBD isolates the CBD cannabinoid to purify the component. When you consume full spectrum CBD, your body can experience the Entourage Effect, brought on by the cannabinoids interacting with each other. 
This 'Entourage Effect" is what has caused full spectrum CBD oil to supersede isolate CBD in popularity, as isolate prevents your body from maximizing the synergistic effects of the plant's compounds. 
CBD isolate is typically used by people who are sensitive to THC, or live in states with strict laws against THC consumption. It is also more commonly used for cooking as it has a more subtle flavour than full spectrum CBD.
Full spectrum, on the other hand, is more commonly used by those who want to maximize their CBD experience and are not limited by stringent cannabis laws. For this reason, full spectrum CBD is commonly used in Canada where cannabis use is legal and the product's THC levels are not a concern.
The Benefits of Full-Spectrum CBD
Full spectrum CBD is commonly used to relieve chronic pain, and is also used to help treat anxiety and insomnia. Medical News Today reports on two studies in 2010 and 2011 respectively that linked CBD oil use with reduced social anxiety.
This CBD is unique in that it provides effects that isolate CBD cannot due to the Entourage Effect; this enhances the CBD's ability to relieve pain, among other benefits.
resolveCBD offers a wide variety of full spectrum CBD products, including ones designed for pets. 
resolveCBD: Your Resource for Full Spectrum CBD Online
resolveCBD offers CBD products to suit the needs of various lifestyles. Our Toronto-based CBD company is committed to helping our customers increase their quality of life naturally through CBD education and products.
We offer a wide selection of high-quality, organic, full-spectrum, hemp-derived CBD products to suit the varying needs of working professionals, parents, seniors, self-care enthusiasts, and even pets.
We pride ourselves in only selling products that are made with organic ingredients, infused with healthy carrier oils like MCT oil (medium-chain triglycerides). Extracted from locally grown hemp, resolveCBD products are non-psychoactive and lab tested for safety. 
Connect with resolveCBD today at h[email protected] or live chat with us for an instant response.
DISCLAIMER: Information and products presented by resolveCBD are not intended to diagnose, treat, cure, or prevent any disease or ailment, nor is it intended to be a substitute or alternative for professional medical advice. Always consult with a licensed professional regarding medical treatment or possible interactions with prescribed drugs. Products are intended to be used as directed, by individuals who are 19 years of age or older.
|
Published December 25, 2019